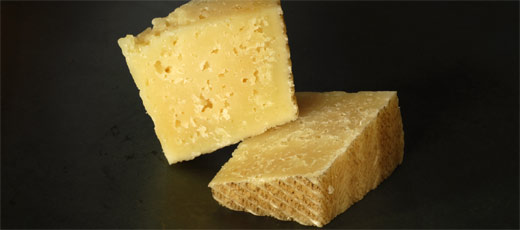 Cheese is a basic product in the Spanish culture and diet. Find out information about Spanish cheese by region. Spain produces over 100 types of cheese.
With over 100 cheeses produced in Spain it is no wonder it has become an indispensable item on every Spanish table, just like bread. For Spaniards, cheese is - both in the making and in the eating - taken very seriously. Cheese is also deeply rooted within the Spanish cultural activity of "El Tapeo" (the art of snacking on appetizers while bar hopping): it can be enjoyed anytime.
Make tonight a wine and tapas evening at home with our selected guide to a few delicious Spanish cheeses. Characteristic weather, geographic variations, aging time and different production techniques used by artisans is what makes every cheese different:
D.O. Cheese From Spain
Roncal
Is elaborated using the raw milk of a particular long-haired sheep called "Latxas," native to the Navarra region. A 4-month long aging process is what guarantees its intense dairy flavor and hint of spiciness.
Roncal is also the first Spanish cheese to receive the European Union's "Denominación de Origen Protegida" (D.O. - Protected Denomination of Origin) label, which guarantees it fulfills the geographical and quality criteria identifying the entire product is traditionally prepared, processed and produced in the respective region.
Mahón-Menorca (D.O.)
Hails from the Balearic Islands and it is made using unpasteurized cow milk. Square in shape, Mahón cheees has a yellow compacted paste that is thickened with herbs and covered by an orange-hued rind. It is often paired with a young red or rosé wine due to its intense spicy flavor which may vary depending on its curing time.
Idiazábal (D.O.)
Is a characteristically strong smoked cheese from the Basque country that is also made from the unpasteurized milk of the Laxta sheep. This compact drum-shaped yellow paste has a soft and almost buttery consistency that goes well with full-bodied red wines.
Cabrales (D.O.)
As Spain's most famous blue cheese, it is elaborated in Asturias from a mix of cow, sheep and goat milk into the semi-firm creamy yellow paste we find in various cylindrical shapes. The 2-6 months aging in the humid Asturian mountain caves is what produces the moldy blue-green streaks that give the cheese its powerful and characteristic salty flavor... a flavor that is often served as a sauce or along with other foods.
Manchego (D.O.)
Made of sheep's milk, this semi-firm paste with an ivory-golden color and a straw-colored rind is the best known Spanish cheese outside the Iberian Peninsula. It ranges from softer, younger versions (from "fresco" to "curado" aged 3-6 months) to hard and intensely flavored versions ("añejos" aged from 12 to 24 months). Manchego is often served alone as a tapa in Spain, with a full-bodied red wine or a dry sherry or enjoyed after meals with figs, grapes, apples or "membrillo" (quince jelly).
Burgos
The Castilian province of Burgos produces a fresh, soft cheese from the milk of sheep, cow or a mix of both. Its compact shape comes without a rind and its taste is a mix of fresh milk and a bit of saltwater. Goes well with a sparkling wine or a young red wine.
Majorero (D.O.)
Is elaborated using the unpasteurized milk of a "cabra Majorera", a native goat of Fuerteventura in the Canary Islands. Its high-fat, creamy, beige-colored paste has a sweet taste at first which matches almost that of sweet paprika as it ages. Any wine goes well with this Canarian specialty, which can also be served as a starter to a meal.
Quesucos de Liébana (D.O.)
Are small irregular-shaped cheeses from Cantabria elaborated from the milk of cow, sheep, goat or a mix of the three. The soft, compact and fatty paste is shaped by hand, and its taste is sweet and milky. However, the smoked ones offer a stronger, more personable taste.
Tetilla (D.O.)
Resembling a woman's small breast (hence its strongish name), this Galician cheese is elaborated with pasteurized cow milk producing a soft and tender flavor that is hidden in an equally soft and creamy yellow-colored, thin-rinded paste. Pair it with a white or red full-bodied wine.
Torta de Casar (D.O.)
Produced exclusively in the province of Cáceres using the milk of the "Churra" goat, it is said to be Spain's most expensive cheese. Its hard rind secures a really soft, white aromatic paste, great for using as a spread. Its strong, slightly acidic taste is so intense it begs to be accompanied by any strong wine.
As a general rule, an endless array of snack items like bread, crackers, fresh fruit, olives, Serrano ham, and nuts are great complements to cheese, while wine seems the ideal drink…. To fully appreciate the aroma, the taste and the consistency of the cheese, it is necessary to take it out of the refrigerator 1 hour before serving.