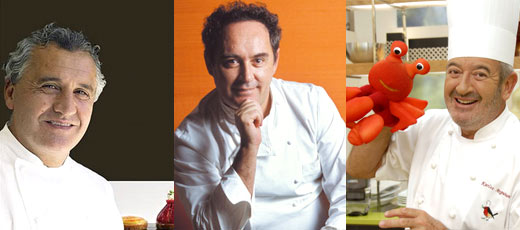 Spain is home to an impressive number of famous chefs and restaurants that produce some of the world's most delicious Mediterranean cuisine.
Spain is home to an impressive number of Spanish world renowned chefs and famous restaurants that produce some of the world's most delicious Mediterranean cuisine. The Michelin Red Guide, the oldest and best-known restaurant guide in Europe reviews and rates top restaurants and famous chefs every year. The Michelin rating system of one to three stars is the most recognized in the culinary world, identifying high quality restaurants and outstanding chefs in Spain and Europe. 
In 2011, Michelin awarded 139 restaurants in Spain with stars: Seven Spanish restaurants earned the coveted three star rating, signifying exceptional cuisine worth travelling for; 14 Spanish chefs and restaurants earned two stars for excellent cooking, worth taking a detour; and 117 restaurants in Spain earned one star for excellent restaurants of category.
Food in Spain is as diverse as the European people and plays an integral role in everyday Spanish life, from celebrations to funerals. Spanish cuisine varies by region and is renowned for its fresh Mediterranean ingredients, rich in pork, seafood, olive oil, fruits, vegetables, cheese and various types of beans. Along with a love for food is adoration for great Spanish chefs Several famous Spanish chefs have gained international fame and recognition for their exquisite cuisine and superb restaurants.
Catalonian Spanish chef Ferran Adrià has been declared the best chef in the world by the New York Times and by French chef Joël Robuchon. Considered the most imaginative creator of haute cuisine on the planet, the world renowned Spanish chef owns the three-star Michelin restaurant called El Bulli, located in Rosas, approximately two hours from Barcelona. There, one can indulge in various Ferran Adrià creations including liquid ravioli, caviar made from olive oil, pine cone mousse, cuttlefish ravioli in coconut milk, parmesan snow and other culinary delights. Chef Ferran Adrià's immense success has inspired various protégés such as Chef Sergi Arola, owner of La Broché Restaurant, and Chef José Andrés, host of the television program Made In Spain.
On Spanish television, Chef Karlos Arguiñano is famous for his televised cooking programs and keen sense of humor. Additionally, Chef Simone Ortega, Chef Ángel Muro and María Mestayer de Echagüe have all found wide recognition for their cooking guides.
Other prominent Spanish chefs include: Paco Torreblanca (master pastry chef), Alberto Chicote (famous for fusing Spanish and ethnic cuisine) Quique Dacosta (2 star Michelin restaurant in Denia), Daniel García (National Gastronomy Award Recipient in 2009), Enrique Martínez (National Gastronomy Award Recipient in 2002), Paco Roncero (famous for miniature cuisine), and many more.
Restaurants in Spain from World Renowned Chefs
Of course, we cannot forget the other world renowned Spanish chefs whose restaurants boast the prestigious three star Michelin rating:
Juan Mari Arzak: Owner of Arzak restaurant in San Sebastian. The Spanish chef is considered a master of Basque cuisine with an evolutionary and avant-garde style.
Santi Santamaría: The first Catalan cook to earn the three-star Michelin rating for Can Fabes restaurant in Sant Celoni, Barcelona. Can Fabes was recognized as the 31st best restaurant in the world according to the 2008 edition of Restaurant Magazine.
Martín Berasategui: This famous Spanish chef runs the Berasategui restaurant in Lasarte (Guipúzcoa) which was voted the 29th best in the world according to the 2008 edition of Restaurant Magazine.
Carme Ruscalleda: In Sant Pol de Mar, between Barcelona and Girona, you can find the Sant Pau restaurant, recipient of the three Michelin stars and three Campsa-Repsol suns.
Joan Roca: Chef Joan Roca and his brothers Josep and Jordi Roca are in charge of the El Celler de Can Roca restaurant in Girona, Spain. This family restaurant focused on traditional meals was voted the 5th best in the world by Restaurant Magazine in 2010.
Pedro Subijano: San Sebastian is home to another top-notch restaurant called Akelarre, known for its fresh seafood and Basque cuisine. Chef Pedro Subijano was awarded the National Prize for Gastronomy in 1979 and is also known for growing his own herbs.