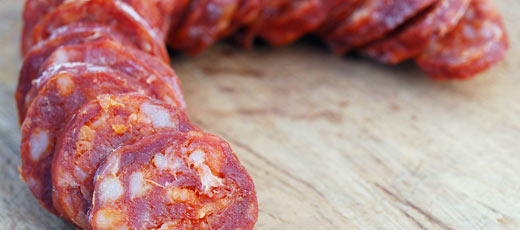 Chorizo is a cured smoked pork sausage from Spain. Spanish chorizo is an extremely versatile part of the Spanish gastronomy.
Chorizo is the word used for fresh or fermented cured smoked pork sausage originating from Spain. Spanish chorizo comes in short, long, hard, soft, sweet and spicy varieties making it an extremely versatile part of the Spanish gastronomy, appearing in a variety of Spanish chorizo recipes as well as in many Spanish chorizo tapas (appetizers).
Spanish chorizo is easily distinguished due to its deep red color. The color comes from smoked Spanish paprika, known as pimentón, which is grinded from dried red peppers. Depending on the type of paprika used, Spanish sausage can either be categorized as picante (spicy) or dulce (sweet). Traditionally, Spanish chorizo sausage is made from chopped pork and pork fat, flavored with salt, paprika and wine. The chorizo sausage is then encased in animal intestines, a tradition dating back to the Roman times.
Additionally, Spanish chorizo has hundreds of regional variations in which it may contain garlic, herbs or a variety other ingredients. The chorizo sausage may appear leaner for use in chorizo tapas or fattier for use in Spanish chorizo recipes. A Pamplona regional chorizo is thicker and the meat is grounded more finely whereas the Chorizo Riojano, artisan-made with high quality meats, paprika, salt and garlic, is certified as a Protected Geographical Indication (products that possess certain qualities with reputation in a geographical origin). Other regional Spanish chorizos include: botifarra catalana, chorizo gallego and chorizo de Teror.
Spain is not only famous for its chorizo but also for a variety of other pork products including lomo embuchado, marinated air cured pork loin, and salchichón, a type of Spanish sausage seasoned with black peppercorns rather than paprika.  Other famous Spanish sausages include: morcilla, Spanish blood sausage and farinato, seasoned sausage made from bread crumbs, pork lard and onions is another popular sausage product. Some of these popular sausage varieties include: morcilla de Burgos, morcilla de Ronda, Morcilla de extremeña, morcilla dulce canaria and farinato de Salamanca.
Chorizo Recipes
Spanish chorizo comes in a wide variety of lengths and flavors which makes it a perfect complement or main ingredient to a meal. Chorizo sausage can be sliced and eaten directly, added to a sandwich, or mixed in with beans, potatoes, or other dishes. The versatility of chorizo makes it perfect for chorizo tapas and is found in a wide range of chorizo recipes. Some famous and typical Spanish chorizo recipes include: cocido madrileño (chickpea stew with vegetables, potatoes and meat), fabada asturiana (Asturian bean stew with meat), estofado de lentejas (lentil stew), patatas a la rioja (La Rioja potatoes) and hornazo (a sort of pastry meat-pie popular in Salamanca).
There are many variations to Spanish chorizo such as found in Latin America where chorizo is often flavored with chili peppers and vinegar and encased in a more commercially aesthetic casting. However nothing is quite like Spanish chorizo and pork products which are famous worldwide and make up a big part of Spain's culinary tradition and history.