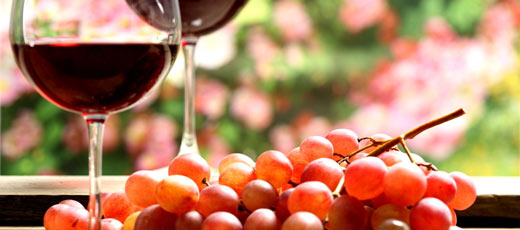 Spain is one of the most recognized countries in the wine world. Rioja and Ribera del Duero maybe could be the most important wine regions in Spain.
Spain is one of the most recognized countries in the wine world. The diverse climate and topography in Spain allows for a great variety of wines for all tastes. On an international level, most likely La Rioja Denomination of Origin wine is the most famous, although there are many other Spanish wines of similar quality such as Ribera de Duero wine, Jumilla wine, Ribera de Guadiana wine and Fino wine. Additionally wineries like Vega Sicilia or Marqués de Cáceres have also gained an important international reputation.
Spain has more terrain dedicated to the cultivation of grapes than any other country, accounting for 15% of the world's vineyards with 1.2 million hectares. Over 600 varieties of grapes are grown in Spain, although 80% of the total grape harvest is made up of a mere 20 varieties. The most important are the Tempranillo, Albariño, Garnacha, Palomino, Macabeo and Cariñena grapes.
A special mention is deserved to talk about Catalan sparkling wine, known as cava. Cava is a popular drink during holidays and over Christmas. Without cava wine, Christmas would not be the same in Spain.
Spanish Wines Clasification (UE Regulations)
Quality Wines Produced in Specified Regions (QWPSR)
Denominación de Pago (DO Pago or VP – Vino de Pago): Superior wine with an international reputation. The highest quality rating a wine can obtain. In 2008, only seven Spanish wines were given this denomination.
Denominación de Origen Calificada (DOCa or DOQ): This category is reserved for regions with a proven track record for producing high quality wine.
Denominación de Origen (DO): This rating is given to Spanish wines that come from a delimited wine region and the production is monitored by a regulatory board.
Vinos de Calidad Producido en Región Determinada (VCPRD): Wines produced in a specific geographic region that aspire to be classified as DO wines.
Vinos de Mesa (VDM)
Vino de la Tierra (VdlT): Wines that have not gained QWPSR status but come from specific geographic origins and are elaborated following a less strict regulation.
Vino de Mesa: Table wines that are not included in any other classifications.
Spanish wine labels
Spanish wines are labeled according to the amount of time the wine has been aged. Following this rule, a young wine aged 2 years or less is usually called vino joven (young wine) or sin crianza (without aging). The year of the vintage (grape harvest) is also often included on the label. The most common labels are:
Crianza: Red wine must be aged for at least 2 years, including the 6 months in the barrel. White and rosé wine must be aged for at least one year, six months of which are in barrels.
Reserva: This wine label is reserved for wines that are aged for three years, one of which is in the barrel. White and rosé reserves are aged for at least two years with six months in barrels.
Gran reserva: Red wines must age for at least five years while white and rosé wines must age for at least four to receive this classification. Red wines must age at least 18 months in barrels while rosé and white wines must spend at least six months in barrels.
One great way to practice Spanish is to chat with natives while trying one of Spain's many fabulous wines…