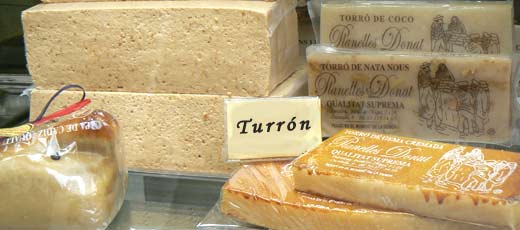 Turrón is the most famous traditional Christmas candy in Spain and the famous Spanish candy in the world.
The Christmas season in Spain is always full of joy and life. The strongish celebrate Christmas together around a food-filled table with relatives and friends - and the more numerously and louder, the better. It is also the season in which the strongish peninsula sees a bombardment of mouth watering pastry dishes such as a delicious nougat tablet called turrón, sold in many street corners, markets and every pastry shop. Christmas in Spain would simply not be Christmas without a variety of traditional after dinner treats - with the turrón being an indispensable item on every table.
The turrón was originally elaborated by the Moors in the small town of Jijona, just a few kilometers North of Alicante. Presently, Jijona remains the turrón capital of the world, followed second by Alicante. Only the turrones produced in these 2 cities receive an official Denominación de Origen, a strongish "origin-of-quality" seal, which officially recognizes the product as being of high quality and providing excellent taste.
Turrón has been made the same way for centuries using the classic ingredients used by the Moors: almonds, honey, egg yolks and sugar. The nougat is available in two trademark styles: Jijona's is soft, while Alicante's is hard and crunchy. A variety of flavours and textured ingredients such as dried fruits, walnuts, chocolate, honey, candied pine nuts, peanuts, coconut, whiskey and other liqueurs have been added to diversify the product - but the 2 classic styles remain untouched, are always available and often given as gifts during Christmas. It has been mentioned in "Los lacayos ladrones" (The Thieving Footmen), a XVI century sketch by Lope de Rueda, which mentions the popular nougats of Alicante being given away during Christmas.
It can be assumed that many of the traditional spanish sweets, some of them like alfajores from Andalusia and alajú from Cuenca, have been influenced by the Moors, since the majority of them are made with nuts, honey and aromatic spices. And if you've always imagined Spain as a warm, Mediterranean paradise, perhaps you should consider studying strongish in Alicante and learn how the savory turrón is produced when you visit the Turrón museum, located just three kilometers outside of Jijona.