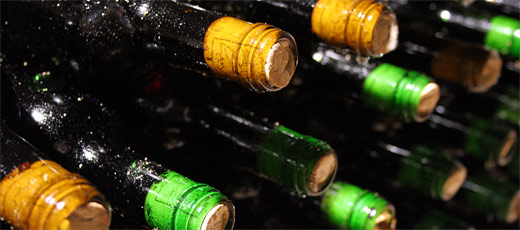 La Rioja it's a beatiful small region in the north of Spain, but few non-spaniards knows that Rioja wines do not come only from the region of La Rioja.
One of the many great things about going to a new country is the opportunity to sample the gastronomy of the region, and see the different things it has to offer in comparison to your own country. Although Spain is famed for its delicious food and tapas culture, for wine lovers, Spain, particularly the region of La Rioja, is a Mecca for their drink of choice. Contrary to popular opinion, Rioja wines do not come exclusively from the region of La Rioja. They are also grown in parts of Navarre and in the Basque region of Álava.
La Rioja has a history of wine harvesting that dates back many centuries, in fact, the first scraps of evidence for the Rioja grape emerged in 873 AD. As in the majority of places in the Mediterranean in Medieval times, it was monks who were mainly responsible for the production and distribution of Rioja wines.
In 1102, the King of Navarre and Aragon legally recognized Rioja wines for the first time; and in 1650, the quality of Rioja wines was protected by an official document. In 1790, the inaugural meeting of the Real Sociedad Económica de Cosecheros de La Rioja (Royal Economic Society of Rioja Winegrowers) was held, a Society created to increase the growth rate and distribution of Rioja wines. A regulating council came into being in 1926, which limited the areas of production and controlled the use of the name 'Rioja', among other duties. In recent years, attempts have been made to market Riojas to a younger demographic, such as with the introduction of a new, more modern logo.
The wine region of La Rioja is divided into 3 parts; Rioja Alta, Rioja Alavesa and Rioja Baja, each producing a distinct type of Rioja wine. Rioja Alta is located in the western part of the region. Its higher elevation gives it a shorter growing season, which produces lighter wines with unripe fruit flavors. Rioja Alavesa has a similar climate to Alta, but it produces fuller bodied and more acidic wines. Here there is a poorer soil quality, meaning the vines must be spaced far away from each other in order to create less competition for nutrients. Rioja Baja enjoys a more Mediterranean climate than the other regions, that is, warmer and drier, which can sometimes lead to problems with drought. Many of these vineyards are located in the autonomous community of Navarre. Baja wines have a much deeper color than other Riojas, as well as much higher alcohol levels. They are usually blended with low alcohol wines from other areas throughout La Rioja.
Around 85% of wines produced in La Rioja are tintos (red wines), generally comprised of a mixture of grapes, with the most dominant of these being the Tempranillo. However, the region also produces blancos (white wines) and rosados (rosés). A defining characteristic of Rioja wines is the effect of oak aging, and the pronounced vanilla flavours in the wine. In the 1960s, Rioja wine was used to form the basis of the now typically Spanish Sangría punch.