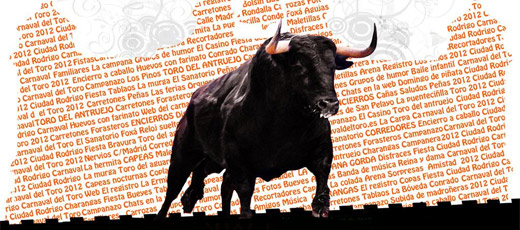 Carnival in Spain. Information on the Carnival del Toro, one of the oldest carnivals in Spain, which takes place in the Spanish city Ciudad Rodrigo.
In the Salamancan district of Ciudad Rodrigo, near to the border with Portugal, one of the oldest Carnivals in Spain is celebrated every year: The Carnival of the Bull. It is the city´s big festival and at it there is a mixture of brass bands, costumes, and something very Spanish: the bull. All of this combines to make it a unique festival.
During Carnival days bullfights are celebrated in the Plaza Mayor of Ciudad Rodrigo. Inside the Plaza, a bull-ring is put up by hand in a rectangular formation. But before the fights, the mirobrigenses (people from Ciudad Rodrigo) take part in an exciting and dangerous festival: los encierros, the running of the bull.
The running of the bull involves taking the bulls from the bull-pens to the Plaza, whilst the main bell of the town hall rings to warn people that the bulls are out for people on the street who may not be aware of this. When the bulls arrive at the Plaza a crowd is awaiting them in the tablaos, wooden seats erected for the fight, or in the case of the most brave, in the ring to have a go at bull-fighting.
However, the most important thing of all is the Encierro a Caballo (the running of the bull on horseback). This involves expert horseriders, called garrochistas, taking the fighting bulls to the city from the nearby fields. It is quite a sight to see the herd of bulls running through the open countryside accompanied by men on horseback.
During the fights in the Plaza Mayor, many maletillas, aspiring bull-fighters, come from all over Spain looking for their chance. They hope that someone famous will see them and take a chance on them and make them apprentice matadors. Others throw themselves into the ring not looking for fame; they merely do it to feel the rush of facing a bull.
The climax of the festival comes with el Toro de Aguardiente on the Tuesday of the Carnival. For the whole morning, a bull is let loose on the Calle Madrid, between the Registry Office and the Plaza Mayor. Those that have been strong enough to make it to this point will have experienced the full emotion of the Carnival.