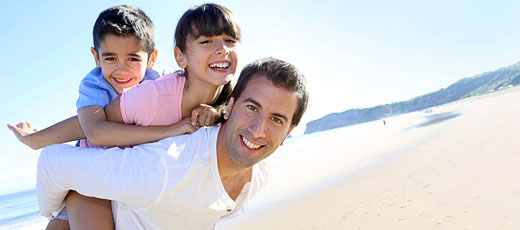 Father's Day in Spain. In Spain this day is called el Dia del Padre and until recently, Father's Day was a national holiday in Spain.
"El Dia del Padre"
Like many European countries, Spain's holiday calendar is heavily influenced by the church. Father's Day (El Día del Padre in Spanish) is celebrated in Spain on St. Joseph's Day which falls on March 19. St. Joseph's Day is a Roman Catholic feast day designated to commemorate the life of Joseph, husband of Mary, who set the example of what a good husband and father is for his role within the Holy Family. Saint Joseph is also the patron saint of the Catholic Church, immigrants, workers, carpenters, as well as other groups and causes.
Until recently, Father's Day was a national holiday in Spain. This holiday is still considered to be extremely important in Spain as it acknowledges the contribution of fathers within the family and society as a whole. It is also the time to honor those family members and friends who fulfill the role of father-figures. In Spain, it is not uncommon for the whole family to get together for a big meal and to give small gifts to their father. In Valencia, St. Joseph's Day coincides with their huge annual fiesta of Las Fallas.
The Origin of Father's Day
The origin of Father's Day is rooted in the United States at the start of the 20th century when a woman from Washington State, Sonora Smart Dodd, pushed to establish an official equivalent of Mother's Day. She went all over the state to raise support for her initiative and successfully got the State Governor to pass a law establishing the celebration of the first Father's Day in America on July 19, 1910. Little did she know that fifteen years later, in 1924, her initiative would lead American President Calvin Coolidge, who liked the idea of a national holiday, to urge state governments to make the third Sunday in June Father's Day.
Given the acceptance and success of this day in the U.S., the holiday was adopted by countries around the world over the years. Due to different traditions and customs, Father's day is not celebrated on one day globally: Spain, along with the majority of European countries celebrate this day on March 19 creating a religious bond with this day, while Latin America follows the U.S. tradition of the third Sunday in June. While most countries celebrate in Spring and Summer, some countries like Australia or Luxembourg celebrate it during the second half of the year. Even though dates may differ between countries, what remains the same is the festive family spirit that is present this day.
In Spain we take this opportunity to express our gratitude to our fathers usually by giving him a hug and saying "Te quiero, papá" (I love you dad). Also, it is not uncommon on this day for kids to give their father a gift as a token of their affection. The gifts can range from a jamón (something this entire family can enjoy) to taking him out for a nice meal in a restaurant or spoiling him with the latest technological gadget. Usually, primary school students in Spain begin gearing up for Father's day a week before the holiday. In class, children will make cards, ties, picture albums and other artistic creations to bring home where they may also help out making dad his favorite dish.
So the next time you celebrate Father's Day don't forget to wish your dad a "Feliz Día del Padre".