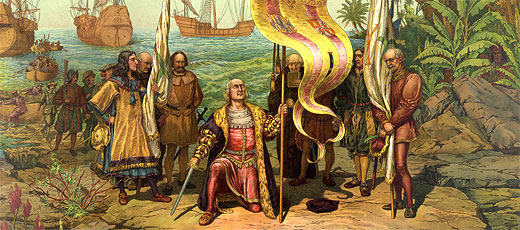 El Día de la Raza. October 12 celebrates the Día de la Hispanidad in Spain and America and coincides with Spain's National Holiday.
El Día de la Raza
On the 12th of October the Día de la Raza or National Day of Spain, also known as the Día de la Hispanidad (Hispanic Day), is celebrated in Spain and Latin America. This day unites all Spanish speaking nations and cultures in celebration with parades, dances, food, and more. In many countries the Día de la Raza or Día de la Hispanidad (Hispanic Day) is a national holiday.
On October 12, 1492, Christopher Columbus stepped foot on the new world marking the moment of the first encounter between Europeans and America. This discovery was of such great importance that it forever changed the mentality of both worlds, although not without consequences. On one hand, there was a vast cultural development, and on the other, catastrophic costs to the native populations.
Christopher Columbus never realized in his lifetime that he had arrived to a new continent. He always thought that he had made it to India, and as a result of this error, the Native Americans became known as Indians.
After Columbus arrived to America on October 12, 1492, other trips were organized by the Spanish Crown for explorers such as Núñez de Balboa and Francisco Hernández de Córdoba. It was Amérigo Vespucci, however, who realized that they had reached a different continent while he navigated the Northern coast of South America along Brazil and the Patagonia. The land was later called America after Vespucio.
Faustino Rodríguez-San Pedro created the name of the festival in 1913 while he was the President of the Ibero-American Union. This designation served to highlight the cultural ties that united Spain with Latin American countries, and thus to create a common block against the hegemony of the other Western powers.
In Spain, Hispanic Day coincides with Spain's National Holiday, which is also the same date as the Virgin of Pilar, patroness of the city of Zaragoza and of Spain. In Argentina, the name of the holiday was changed to Día de la Diversidad Cultural Americana (American Cultural Diversity Day) but it may be changed again to Día del Respeto a la Diversidad Cultural (Day of Respect for Cultural Diversity). In Chile it is called Día del Descubrimiento de Dos Mundos (Day of Discovery of Two Worlds), in Costa Rica it is Día de las Culturas (Day of Cultures), in the United States it is Columbus Day, in Mexico it is Día de la Raza Iberoamericana (Ibero-American Columbus Day), in Uraguay it is Día de las Americas (Pan American Day), and finally in Venezuela the holiday is known as the Día de la Resistencia Indígena (The Day of Indigenous Resistance).