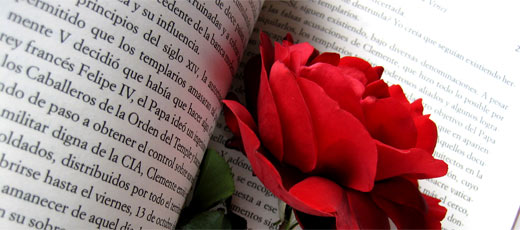 La Diada de Sant Jordi. Sant Jordi is like Valentine's Day with some uniquely Latin twists. The main event is the exchange of gifts between sweethearts.
Bienvenidos, young lovers, wherever you are! Take your amor to Spain's Barcelona in April to celebrate La Diada de Sant Jordi! Saint George, Sant Jordi in Catalan, was a romantic and chivalrous fellow at heart who has inspired Barcelona in making this day the most giddy and amorous day of the year. He also happens to be the patron saint of the six million inhabitants of Catalonia.
Known as "The Day of Lovers," La Diada de Sant Jordi is often compared to Valentine's Day, but with some uniquely Mediterranean twists. The main event is the exchange of gifts between sweethearts - men give their novias a rose and women give their novios a book to celebrate the occasion. Because of the legend of St. George in Catalonia, roses have always been associated with this day since medieval times. However, the giving of books as a gift is a more recent example of the marketing of this holiday.
A smart bookseller began to promote the holiday in 1923 as a way to honor the simultaneous deaths of the two greatest writers of Western literature: Spain's Miguel de Cervantes and Britain's William Shakespeare, both died on April 23, 1616. Barcelona, being the publishing capital of the Spanish-speaking world, quickly adopted this double punch of love and literacy.
In Las Ramblas, Barcelona's principal street, as well as all over the city, hundreds of flower stands selling roses and makeshift bookstalls are hastily set up for the occasion. By the end of the day, some four million roses and 400,000 books are purchased in the name of love. Half of the all the books sold during the year in Catalonia are sold on this day alone! One might find it difficult to see a woman without a rose in her hand, or a man walking by without a book.
Even though La Diada de Sant Jordi is not an official non-working holiday, most romantics ditch the office to take a stroll through the beautiful Mediterranean streets and enjoy the sultry springtime weather. Love is definitely in the air, but even if you don't have a pareja to smooch on a park bench, there are still plenty of things to see and do: watch the dancing of the Sardana (the national dance of Catalonia) as it is performed throughout the day in the Plaça Sant Jaume…and perhaps dare to join in if the mood strikes; or attend various book readings of noted authors, which are held in many book stores and cafes. (Keep an eye out for 24-hour marathon readings of Cervantes' Don Quijote!) Elsewhere, hundreds of Jordis, Georges, Yuris, Jorges, Gorkas and others named after the Saint will be forming a human chain in an attempt to get into the Guinness Book of World Records. There are also a variety of street performers and musicians on hand that add a romantic ambience to nearly every public square and plaza.
UNESCO, inspired by this day, declared La Diada de Sant Jordi International Book Day. Plus, April 23 is the only day of the year that the Palau de la Generalitat— Catalonia's main government building—opens its doors to the public (and for free!) where you can enjoy huge displays of roses created to honor Sant Jordi inside this Gothic architectural masterpiece. Long lines are always expected, so try to get there early!