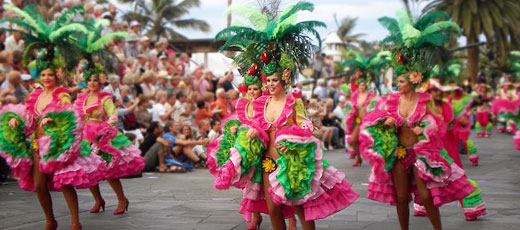 Enjoy the Tenerife Carnival and find out more about Spanish holidays. The Carnival in Tenerife is the second largest carnival celebration in the world.
Santa Cruz de Tenerife is the second largest city in the Canary Islands, Spain. The city's 14 day carnival is one of the most well-known features of Tenerife and stands second in the world in size and spectacle after Rio de Janeiro. With gorgeous girls, stunning costumes, marching bands, music and happy mayhem, all the islanders gather together at these annual festivities in a mass outburst of collective gaiety.
Carnival is a Latin word and literally means 'farewell to the flesh', which describes the Catholic practice of giving-up meat during the 40 days of Lent. Since carnivals are celebrated before Ash Wednesday, historically it was considered to be the last chance for debauchery and excess prior to the abstinence period required by Lent.
Carnival in Tenerife
The main celebrations take place in the the port of Tenerife where people dance to the sound of the best musical groups. The parade is an opportunity for everyone to dress up, adults and children alike. Few are the inhabitants of Tenerife who do not prepare their fancy dress costumes to show off during theses happy days. Most people try to dress up as something they are not or simply just match their costumes to the carnival's theme, which changes every year. An expressed sentiment between the people around this time is: "It's a time to dress up and dance the nights away".
During the days of the carnival, many important festivities are held such as the election of the Queen and junior Queen through a televised beauty pageant, competitions of street bands, processions for adults and kids and above all the impressive cavalcade which blends "Caribbean" and "European" into a garland of color and spectacle.
The last event of Tenerife's annual carnival is Entierro de La Sardina (Burial of the Sardine), a tongue-in-cheek parade, with townsfolk decked out in black to mark the passing of the spirit of the carnival where a homemade effigy of a fish is buried, signifying the end of the carnival and the return to ordinary "dull" life. A spectacular fireworks display closes the day.
Whoever visits Tenerife during the month of February should not miss the vibrant and bustling celebrations and if possible join the crowd in fancy dress….since the people that stand out the most are the ones who don't dress up!.
If you want to know more about Tenerife Carnival read our guide