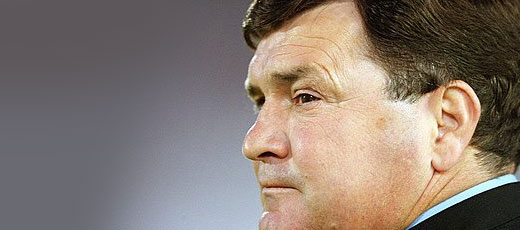 José Antonio Camacho was signed up to coach the Spanish team up to the World Cup in 2002 and he played in Real Madrid too
Jose Antonio Camacho was born in the town of Cieza (Murcia) in 1955. He showed a strong interest in soccer from a very early age. At the age of 16, he started playing for Atlético Jareño (a regional league team from Villanueva de la Jara, in Cuenca). From there, the player went up a level to play with Albacete soccer club's youth team, where he played in the position of far left wing. His playing skills caught the attention of Spanish national team recruiter Hector Rial, who asked him to play for Spain's national youth team. After playing with the national team, Antonio Camacho started playing with Albacete's main team. The quality of his abilities got noticed by scouts from F.C. Barcelona and Real Madrid. He chose the meringue team (a nickname for Real Madrid which refers to the team's white colored uniform), and signed with Real Madrid's minor league team el Castilla in 1973,where he played as a defender. A year later the young soccer player debuted with the major league team, with Luis Molowny as coach, solidifying the team's defense. He would remain on this team until his retirement in the 1988-89 season.
Jose Antonio Camacho's exceptional playing was highlighted by speed, an ability to anticipate and ironclad guarding. He helped define a period, not only in Real Madrid's history, but also in that of the Spanish National Team, with his team spirit, ability to sacrifice, charisma and craving for victory, all fundamental winning factors for the two teams. He played in 414 matches during his soccer career, scoring 9 goals and only facing expulsion from a game once. He donned the jersey of La Roja (a nickname for Spain's national soccer team, referring to the team's red colored uniform) on 81 occasions, a record that lasted for some time. Camacho played in the 1982 and 1986 world cups and in the 1984 and 1988 Euro cups.
After retiring as a player in 1989, Camacho joined Real Madrid's technical staff. He later became the coach of Rayo Vallecano, a team he helped carry up to the Spanish league's premier division. Afterwards, he coached C.D. Espanyol for four seasons and he also coached Sevilla. Camacho also was Real Madrid's coach for a mere 22 days in 1998, leaving that post over management disagreements.
In 1998, the former Real Madrid soccer player took over for Javier Clemente as coach of Spain's national soccer team. His honesty, sincerity and firmness came as a breath of fresh air after the coaching performance of Clemente, whose arrogant attitude and poor relationship with the press had worsened during a long losing slump with the national squad. Camacho helped the team reach the semi-finals in the 2002 World Cup in Korea and Japan, ending up taking fifth place, the highest the Spanish National Team had ever reached at the time.
After leaving the national team, he coached Osasuna until the 2010-11 season, when the Navarro team decided they would no longer use his services.
On August 14, 2011, the Chinese national team signed him as coach, hoping to classify for the 2014 World Cup in Brazil. He debuted with a victory against Singapore, only to lose the two following matches, eliminating the Chinese National Soccer Team from World Cup classification.
Jose Antonio Camacho continues to be the coach of the Chinese National Soccer Team.