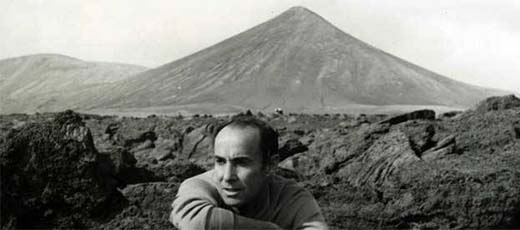 Arrecife, the capital of Lanzarote was the home of César Manrique, a man whose name is repeated all over the island with great admiration.
Lanzarote, the most southwestern of the Canary Islands, attracted some two and a half million tourists to its spectacular volcanic landscapes and stunning beaches in 2014 alone. It's a place where human impact on the environment is meticulously controlled and tourist resources are integrated into the island's natural surroundings. This careful harmony is in part the fruit of one local resident's vision, a resident whose name is repeated all over the island with great admiration and respect: César Manrique.
Arrecife, the capital conejara (conejero is the demonym that people from Lanzarote use to refer to themselves) was the home of César Manrique Cabrera. He was born there on April 24, 1919 to a middle class family. Don Gumersindo, his father, had a comfortable position as a sales representative. When César was 15 his parents purchased land on a small cove on the north coast of the island where they built a house along the beach. This decision made an indelible impact on a young César, who promptly fell wildly in love with the coast and Lanzorote's rich natural landscapes.
At 17 years old Civil War broke out. He enlisted as a volunteer on Franco's side, serving in Ceuta and different places on the peninsula. We can assume that the war deeply affected him; after returning home in 1939 he trampled and burned his uniform and never spoke about the three year experience.
He enrolled at the Universidad de La Laguna to study architecture, but dropped out just two years later after obtaining a scholarship to move to Madrid and study at the Escuela Superior de Bellas Artes de San Fernando, where he graduated as an art teacher in 1945. Three years later he held his first individual exhibit in Arrecife. In the 1950s he founded the Fernando Fe gallery in Madrid, the country's first non-figurative art gallery. Around this time he began dedicating more time to abstract art, working with a variety of material which would become a trademark of his work and moving toward artists such as Antoni Tàpies, Lucio Muñoz, and Manuel Millares. He participated in the Bienal de Venecia in 1955 and 1960 and also in the III Bienal Hispanoamericana de la Habana (1955). During this period he painted murals in Lanzarote and had exhibits in various countries.
In 1964 he travelled from Madrid to New York, where he made contact with popular artistic trends and held various exhibits. Two years later he returned to Lanzarote permanently, where he began multidisciplinary work which lead him to take a radical position in defense of the environment and promoting respect for traditional architectural styles. The fruit of this aggressive labor is his 1968 architectural masterpiece Jameos del agua, an enormous volcanic bubble that's open on top in which he perfectly integrated public areas including an auditorium for up to 600 spectators within the natural landscape. This integration of natural landscapes and respect for the environment would become a trademark of Manrique's work. He was able to get billboards banned from Lanzarote's highways.
Other works of his include El Taro de Tahiche, which today houses the Fundación César Manrique in the north of Lanzarote, and the Lago de la Costa de Martiánez in Puerto de la Cruz (Tenerife).
In 1983 he collaborated on the design of Spain's first shopping mall to be completely integrated in natural surroundings: La Vaguada in Madrid.
He later continued his work in the Canary Islands creating Jardín de cactus in Guatiza, Lanzarote; remodeling and developing Playa Jardín in Puerto de la Cruz, creating Parque marítimo in Santa Cruz de Tenerife, and the viewpoints at La Peña, El Hierro, El Palmarejo, and La Gomera.  These works earned him respect and popularity among his contemporaries.
Manrique was a austere man, nearly ascetic; he didn't drink alcohol or smoke, he went to bed early and got up early, and he didn't like cars. Sometimes destiny plays with irony in cruel ways; in 1992 he died in a traffic accident on an intersection in front of the foundation named after him.
The Dutch have a saying: "God schiep de aarde, maar de Nederlanders schiepen Nederland" (God created the earth, but Holland created the Dutch). In much the same way, they have a saying on the Lanzarote: "Manrique's greatest work is Lanzarote".
Spanish public television (RTVE) dedicated one of its cultural programs, La mitad invisible, to César Manrique.