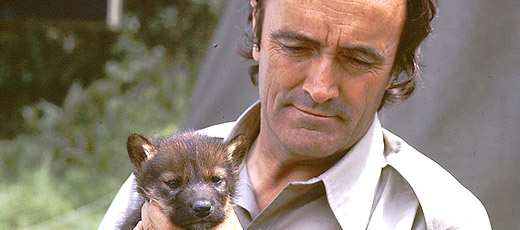 Félix Rodríguez de la Fuente was the most famous figure on Spanish television in 70s. His program, Man and the Earth, was a symbol for nature enthusias.
Félix Rodríguez de la Fuente was without doubt the most famous figure on Spanish television in the 1970s. His program, Man and the Earth, was a symbol for nature enthusiasts and the principle driver of environmental awareness in Spain for decades. Thanks to people like Félix, animals in Spain such as the Iberian wolf, the golden eagle and the black vulture live on and many laws exist to protect the many birds of prey in Spanish territory.
Félix Rodríguez de la Fuente was born in a small town called Poza de la Sal in Burgos, Spain. He grew up in constant contact with nature from the day he was born and was educated by his father, an official notary public and literature lover. Perhaps he inherited his way with words from his father because Felix was a great communicator and was even nominated as a candidate to the Royal Spanish Academy in 1964.
In one of his many rural outings, Félix Rodríguez de la Fuente was impressed watching how a Peregrine Falcon hunted a duck. This experience motivated Félix to reintroduce into Spain the art of falconry, hunting using birds of prey, a method that had disappeared from the country centuries earlier. In order to do so, Félix read medieval literature such as the Book of Hunting Birds, by Pero Lopez de Ayala and the Book of Hunting by Don Juan Manuel.
Falconry is what eventually brought Félix Rodríguez de la Fuente fame, starting when he visited RTVE (Spanish Radio & Television) for a short interview. The naturist entered the television studios accompanied by a female hawk. His presentation impressed both the audience and the journalists, giving way to the possibility of future programs. Additionally, Félix created programs using hawks to scare away other birds in order to increase air safety around airports and runways. Félix was also commissioned by the Spanish government to catch two hawks, train them and present them as gifts to the King of Saudi Arabia, an avid fan of the sport of falconry. The King himself would in return help Felix to produce his first documentary on falconry called Lords of Space.
After his first television interview, Felix Rodríguez de la Fuente was offered a reoccurring 5-minute spot on the program Fin de Semana (Weekend), in which he would address different topics about nature, hunting, fishing and hiking. After working with Fin de Semana for four years, Felix collaborated with the program Telvisión Escolar, various radio programs and also worked with several newspapers. His work was always directed towards raising awareness about the importance of protecting nature and the environment.
Despite all the work the Spanish naturalist did, he is undoubtedly most famous for his television series called Man and Earth. The show, with a total of 124 episodes, was aired by Spanish television from 1973 to 1980 and has since been re-broadcasted several times with great critical acclaim. Man and Earth was divided into three parts: South America filmed on location in Venezuela, Los Llanos, Orinoco and the Amazon, the Iberian Peninsula and North America. The North American segment was unfortunately never finished due to a tragic accident that would take Félix Rodríguez de la Fuente's life.
For one of the episodes of Man and Earth in Alaska, dedicated to the Iditarod Trail Sled Dog Race, the team had rented small planes to allow them to closely follow and document the race. While filming, the plane in which Félix was a passenger, alongside cameraman Teodoro Roya, assistant Alberto Mariano Huéscar and pilot Warren Dobson, lost control when one of plane's landing snow skis broke off. Unable to regain control due to their low altitude, the plane crashed and all four passengers were killed. Before boarding the plane, Félix had commented "what a beautiful place to die". It was 12:30 on March 14th of 1980, the same day that Félix turned 52.
The news reached Spain on the 15th of March and Spaniards of all ages grieved for the loss. Today, over 30 years later, the name Félix Rodríguez de la Fuente is still widely known and cherished in Spain.
Stunning images of Iberian wolves chasing mountain goats, golden eagles hunting bighorn sheep, the first images of the Pyrenean Desman, an anaconda attack, and many more will forever be stuck in the memory of the many Spaniards who eagerly followed his charismatic show.
Thanks to Félix's passion and work to raise environmental awareness, today in Spain one can still hear the cry of the Iberian wolf.