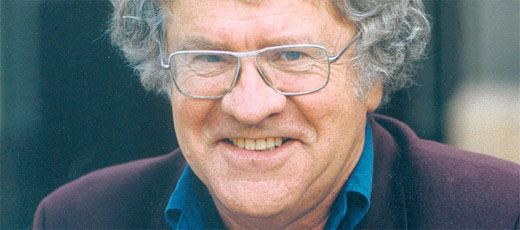 Ian Gibson. The writer with Irish origins is considered an authority on the lives of poet Federico Garcia Lorca and artist Salvador Dali.
"It all began with Lorca for me. When you're 18 and you stumble across a poet who speaks to you in a very personal way… I was beginning to learn the language at the time. I was 17 or 18, in a second-hand bookshop somewhere in Dublin. I suddenly came across a copy of Lorca's Gypsy Ballad. I didn't know the language, but something in those ballads got through to me…"
Ian Gibson was born in Dublin, Ireland, 1939. The writer - more specifically biographer is considered an authority on the lives of poet Federico Garcia Lorca and artist Salvador Dali. Gibson has written biographical accounts on both Dali and Lorca examining how the two lives were intertwined during the Spanish Civil War. Lorca was one of the many who disappeared at the beginning of the war. His body has never been recovered.
Professor Gibson was educated at the Newton School in Waterford and Trinity College in Dublin. He would then go on to lecture in Spanish in Belfast at Queen´s University before being a fixture faculty member in Spanish Literature at London University.
1975 was a transition year for Gibson. He left academia to pursue writing full time. Gibson chose to settle in south France before finding a very centered location in Madrid, to work on Lorca´s biography. Gibson also lived outside of Granada for a time fulfilling a dream to live near the Mediterranean.
Over his career Gibson has churned out many works on Lorca and Dali involving the once taboo themes and lifestyle choices that surrounded the two men i.e. Lorca-Dali: el amor que no pudo ser, 1999 and "Caballo azul de mi locura" Lorca y el mundo gay, 2009. But it was Mr. Gibson´s biography of Lorca titled Federico Garcia Lorca A Life, that won him the Duff Cooper Memorial Prize and the James Tait Black Memorial Prize and was named book of the year by the New York Times and Boston Globe book review in 1989.
The Shameful Life of Salvador Dali, a gritty and detailed account of Dali´s life most importantly points out the complicated relationship between Lorca, Dali and Dali´s wife Gala. Lorca´s sexual advances at Dali were persistent but it is noted with the arrival of Gala in Dali´s life the advances could not have been too timely.
In reference to Dali´s biography Gibson noted, "What I have tried to create is a book that will revive interest in both Dali and Lorca as well as awaken the public's interest in biographies. In the relationship between Lorca and Dali there are still many uncertainties but what we know is fascinating."
Gibson has also worked on the small and big screen as a historical consultant and appeared in several documentaries. In 1984 Gibson received his Spanish citizenship and currently lives in Spain. His latest project is the biography of Luis Buñuel with an approximate release date of 2011.