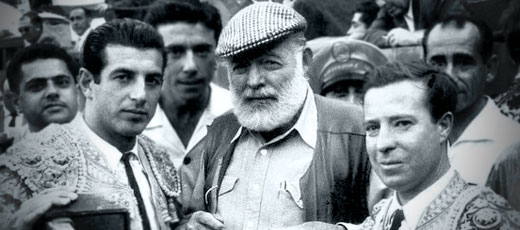 Ernest Hemingway. In many of his novels Hemingway included themes about Spanish traditions such as bullfighting in Spain and the Spanish Civil War.
Ernest Miller Hemingway, born 1899 in Oak Park, Illinois is considered one of the greatest American novelists and short story writers. As a boy, Hemingway learned about the great outdoors from his father, Dr. Clarence Edmonds Hemingway. As a result Hemingway spent much of his time around soldiers, hunters, and bullfighters and was considered a sportsman. He had a deep respect for the rugged take-charge and dangerous lifestyle.
Many of Hemingway's themes for his novels and short stories included soldiers and bullfighters that he encountered while in Europe, specifically in Spain in Madrid and Pamplona. Hemingway made many trips to Spain over his lifetime and based his novels on his experiences abroad.
Fiesta: The Sun Also Rises (1926) came out after Hemingway had visited Pamplona and experienced the dazzling bullfighting atmosphere. The story revolves around a pair of American expatriates who battle jealousy and each other in order to find love. The pair roams from Paris to Madrid encountering sex, alcohol and violence.
During WWI Hemingway worked as a journalist and war correspondent for various outfits across the European theater. His travels and assignments brought him to Italy and France. He was kept out of the fighting because of poor vision. While in Italy, Hemingway was injured on the battlefield and among other adventures he used this experience to create the literary masterpiece A Farewell to Arms which was published in 1929.
Death in the Afternoon (1932) is a nonfiction work and introduction to modern bullfighting in Spain. Again we see the bullfighter as the focal point in a Hemingway work. His admiration for the sport and the type of person that becomes a torero continues to be celebrated to this day.
With the Spanish Civil War in full swing by 1937 Hemingway returned to Spain and, like many writers, he also took the side of the Republicans. In Madrid, in 1940, Hemingway met Martha Gellhorn, a writer and wartime journalist, she became his third wife. For Whom the Bell Tolls is about a group of antifascist guerrillas who are charged with blowing up a bridge somewhere in Spain. The "pine scented" forest where the tale is told over three days reflects themes of nature, war, and personal honor. A female character in the novel, Maria, is said to be modeled after Martha Gellhorn. This book was considered to be "The best book Hemingway has written" by the New York Times.
In 1954 Hemingway received the Nobel Prize for Literature. He did not attend the ceremony in Stockholm as he was recovering from a plane crash while hunting in Uganda, Africa.
After WWII Hemingway returned to Spain, around 1959, where he met a famous bullfighter, Luis Miguel Dominguín. At the time the two met, Dominguín was in the hospital recovering from an injury to the groin from a bull. "Why the hell do the good and brave have to die before everyone else?" Hemingway said. Dominguín in fact did not die from his injuries and he wrote a book, titled The Dangerous Summer, about the intense rivalry between Dominguín and his brother-in-law, Antonio Ordóñez during the summer of 1959.
His novels are still widely read today as themes of men who triumph in the face of political and social hardship is an eternally rewarding motif. Hemingway, a master of the written word, worked with an understated style, speaking to the reader without saying too much. After years of battling depression, alcohol, and the voices in his head; Hemingway took his life with his favorite shotgun, July 2nd, 1961.