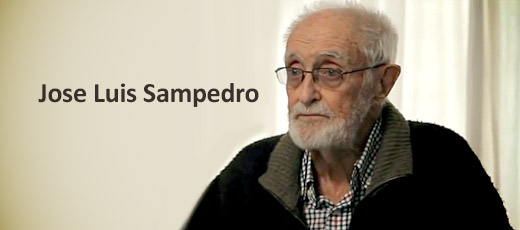 Jose Luis Sampedro. Amongst others, he was awarded with the Order of Arts and Letters of Spain and the National Prize for Spanish Letters.
It often seems that science and literature don't mix well, that they're bound to contradict and misunderstand one another. For most, the notion of economics doesn't go much further than a definition like "the science of studying the most effective methods to satisfy human material needs through the employment of limited goods". In times of crisis, economists inhabit a space in which ethics, commitment, and humanism are at the mercy of cold, hard numbers. Here however we have an exception, an economist who embodied goodness, commitment, and a politically incorrect attitude: José Luis Sampedro has left us with a priceless body of literary work.
José Luis Sampedro Sáez was born in Barcelona in 1917, where he remained for barely a year until his family moved to Tangier. They lived there until he was 13 years old. The Sampedro family then moved to Madrid, where José went to high school. When the Civil War broke out he was called up for the Republican Army until the end of the conflict, and following this he was once again drafted and sent to Melilla.
In 1939 he had already written his first novel: la Estatua de Adolfo Espejo, which remained unpublished until 1994. After being discharged in 1940, he got work as a customs officer in Melilla; he requested, and got, a transfer to Madrid, where he studied Economic Science, graduating with honors in 1947, which got him a job as a teacher and in the research department of the Banco Exterior de España (now, Banco Bilbao Vizcaya Argentaria). During this period he also published his first economics paper: Principios prácticos de localización industrial while also completing his second work of fiction: La sombra de los días.
In 1955 Sampedro became a professor of economic structures at the Complutense University of Madrid.  He continued writing several economic papers, while also advancing as a playwright with Unsitio para vivir and publishing his novel El río que nos lleva.
In the mid-60s, two teachers, José Luis Aranguren and Enrique Tierno Galván were expelled from their chairs. Sampedro declared his support for them, leading him to travel to the United States where he became a  lecturer at the Bryn Mawr College in Pennsylvania.
In the final years of the decade, he would also go to two British universities, Liverpool and Salford, as a visiting professor. When he returned to Madrid, he requested unpaid leave from the Complutense University and he then published El caballo desnudo, a satirical work which served as a way to release a lot of the frustrations he felt about the state of Spain. He went back to work at the Finance Ministry, a job which he combined with classes at Madrid´s Diplomatic School, the Institute of Fiscal Studies and the Autonomous University of Barcelona.
In 1977 the king appointed him as a member of the upper chamber of Spain´s first democratically elected parliament, a position which he held for two years.
In 1981 he published, Octubre octubre, a novel, produced over twenty years, which he described as his first living will. His next work, La sonrisa etrusca, finally garnered him full public recognition and it was a bestseller. However, as though fate was against him, this high point was horribly overshadowed by the death of his wife, who he had married in 1944 and with whom he had a daughter, Isabel, the mother of his dear grandson who was the inspiration behind the plot of the novel, la sonrisa etrusca, which shot him up to the pinnacle of literary fame.
In 1990 he was elected member of the Royal Spanish Academy. His induction speech Desde la frontera (from the border) is a valuable literary work in itself, which bears a certain relation to La vieja sirena, which appeared in the same year.
The novel El amante lesbiano earned critical acclaim when it appeared in 2000 as a declaration of freedom and liberation from an 83 year old man. In 2003 he married Olga lucas, a translator and writer with whom he collaborated on various works including La ciencia y la vida and Cuarteto para un solista, which was his last novel.
The time Sempedro spent on the island of Tenerife inspired his La senda del drago (2006), a work that spoke in favor of environmental conservation.
He continued publishing pieces on economics until one day in April 2013, when he was quite sick due to prolonged heart pain, he asked Olga for a drink. He drank it and announced "now I'm starting to feel better. Thank you to everyone". These were the last words from a man who had been given an honorary degree from the University of Seville (2009) and from the University of Alcalá de Henares (2012), and who received the International Menéndez Pelayo Prize for his "great contribution to human thought". He was also awarded by the government of Spain with the Order of Arts and Letters of Spain for his "outstanding literary career and his commitment to issues of his time". In 2011 he was awarded the National Prize for Spanish Letters.
The Spanish public television program Imprescindibles included a homage to José Luis Sampedro on October 2014 entitled Provocando con Sampedro.