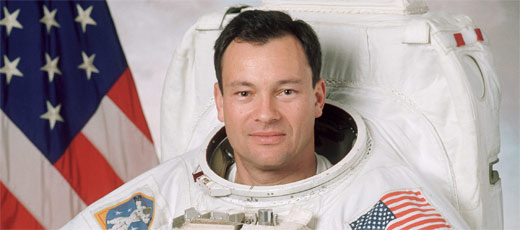 Miguel López Alegria works for the American space agency, NASA. The Spanish astronaut served as a mission specialist in the space shuttle Columbia.
Miguel Lopez Alegria was born in Madrid on May 30, 1958. He grew up in the United States where his father, an aerospace engineer, worked for McDonnell Douglas for 20 years. Lopez Alegria is now a U.S. citizen. He lives in Mision Viejo (California) and he worked for the American space administration, NASA, from which he retired in 2012 at the age of 53. He speaks English, Spanish, French and Russian.
After graduating from high school in Mision Viejo, he studied systems engineering at the U.S.  Naval Academy, and in 1988 he earned a masters degree in aeronautical engineering sciences from the U.S. Naval Postgraduate School. As an aviator with the U.S. marines, Lopez Alegria also served as a flight instructor in Pensacola, Florida and later as a pilot and mission commander for a fleet air reconnaissance squadron in Rota, Spain, flying in missions in the Mediterranean Sea, the North Atlantic, the Baltic Sea and Central America.
Lopez-Alegria received a call from NASA in March of 1992. After receiving one year of training and then being named as an astronaut, he carried out different tasks at the Kennedy Space Center. On his first mission into space, from October 20 to November 5, 1995, Lopez-Alegria served as a mission and flight engineering specialist on board the Space Shuttle Columbia, which orbited the earth 256 times and travelled more than 6 million kilometers. The shuttle remained in space a total of 15 days, 21 hours, 52 minutes and 21 seconds.
In October of 2000, Lopez was selected to take part in a second mission aboard a shuttle, the STS-92. On this mission, he would take his first spacewalk to install a connection node on the International Space Station and test a jet pack which would allow him to move about the outside of the space craft with no physical connection to it, moving  a distance of 50 feet (about 15 meters) away from the craft.
Lopez was an instructor for young astronauts in Star City (Russia), with the goal of preparing them for their journey to the Russian station MIR, and later to the ISS (International Space Station), which he visited in 2006 leaving from Kazakhstan. During this mission, Lopez Alegria set a record for time spent in space. He remained on the ISS as mission commander for 215 days (from September 2006 to April 2007). His record is only second to the Russian cosmonaut Anatoli Soloviev.
Lopez Alegria also holds both the record in number of spacewalks (EVAs) taken, with ten, and in time accumulated on EVAs with a total of 67 hours and 40 minutes.
In 2007, he was named director of operations at the Houston center (NASA Johnson center) where he carried out his work until March of 2012, when he retired from the Army and left NASA.
Miguel Lopez Alegria is currently the President of the Commercial Spaceflight Federation in Washington D.C.