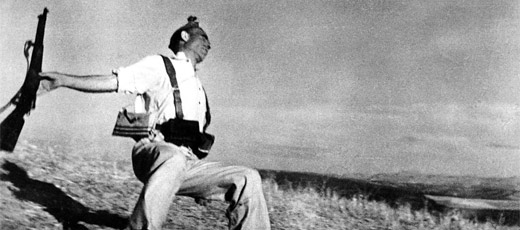 Robert Capa. The Spanish Civil War was the first major campaign in the photographer's career. Robert Capa's Falling Soldier taken in 1936 is world famous.
Robert Capa, a Hungarian born photojournalist responsible for arguably two of the most famous war photos: the Falling Soldier photo and The Magnificent Eleven; 11 photos captured during the D-Day landing on June 6, 1944. Though controversy swirls about the authenticity of the falling Loyalist Militiaman taken on the Cordoba Front during the Spanish Civil War, Capa´s technique and images remain celebrated.
Capa was born Andre Erno Friedman in 1913 in Budapest, Hungary. After he studied political science in Berlin he was later forced to flee the country due to the Nazis presence. In Paris, around 1934, he adopted the American sounding name "Robert Capa." Capa adopted this name with the help of Gerda Pohorylle, a German Jewish refugee. Gerda herself took on the new name of Gerda Taro and would become successful on her own from the skills she inherited as Capa´s companion. Taro was killed in Madrid in 1937 while Capa was away on business. Reportedly the two were engaged to be married and Capa was devasted by her loss.
The Civil War in Spain was the first major campaign of Capa´s career. During the Spanish Civil War Capa photographed frightening images from 1936 to 1939. Capa would later go on to photograph the Japanese invasion of China, World War II, London, North Africa, Italy, D-Day on Omaha beach and the liberation of Paris. When Capa fled Europe in 1939 he lost many photos from his Spanish Civil War collection. It would not be until the 1990s that the collection, nicknamed the "Mexican suitcase" would show up in Mexico City. Later the collection was transferred to the Capa Estate and eventually put on display at the International Center of Photography.
Capa would also travel to the Soviet Union to shoot the cold war but this war did not appeal to his talents. After being grazed by a bullet in Tel Aviv in 1948 he decided not to enter the stage of the Korean War. Capa´s gift was his ability to photograph the drama surrounding his subjects and simultaneously capture the violence of their landscape. Capa regularly put technical consideration second to his proximity to the action, evident from his musing, "if your pictures aren´t good enough, you´re not close enough".
Ultimately the risk of being so close to the action, which made his images famous, would be his undoing. Capa was killed by a landmine while on assignment for Life magazine in Vietnam at Thai Binh on May 25th, 1954. In 1947 Capa co-founded Magnum Photos which was, at the time, the first cooperative agency for worldwide freelance photographers. Today Magnum Photos has offices in New York, London, Paris, and Tokyo with members including Ansel Adams and Spanish native Cristina Garcia Rodero.