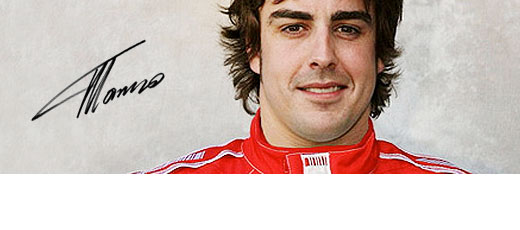 Fernando Alonso. Historically, Spain did not have much interest in Formula 1, but currently he is one of Spain's most famous sportsmen.
Hardly a day goes by in which Fernando Alonso doesn't make it into the Sports headlines in Spain. Even during the off-season from Formula 1, Spaniards can't help but follow the progress of their hero. However, the beginning of the 2008 season is just around the corner and focus is already shifting back on his chances of success. Marked by one controversy after another, Alonso's supremacy was a challenge for every new arrival in the sport, creating a situation which not only raised the profile of the sport in Spain but renewed some of the excitement towards it. Historically, Spain did not have much interest in Formula 1, but Alonso's emergence as a potential rival to Michael Schumacher in 2003 created such a stir that he is currently one of Spain's most famous, admired and successful sportsmen.
Fernando was born in 1981 in Oviedo, Asturias (northern region of Spain), and his father's interest in go-karts influenced him from an early age. Long before his Formula 1 debut in 2001, he was winning championships and creating a stir in the world of Motor Sports. His first two years in the sport were relatively quiet, and it wasn't until 2003, his first season with French team Renault, that his potential was fully appreciated. Following a long period of dominance by Michael Schumacher, Alonso become a breath of fresh air for the sport, finishing 6th and 4th overall in the 2003 and 2004 season.
However, it wasn't until 2005 that he really began to make his mark: he clocked seven victories and won the World Championship, 58 days after his 24th birthday, making him the youngest champion ever in the history of the sport. His success continued into the 2006 season where he successfully defended his title and became the youngest Double World Champion. With such a record to his name it is no wonder that he very quickly became a national hero, appearing in advertising campaigns worldwide. 2007 saw Alonso driving for the British team MacLaren and a British newcomer as his teammate. It was clear from the beginning that Lewis Hamilton, aged 22 at the time, would be a strong contender, especially when he came third in his first race, becoming only the second driver in the sport's history to earn a place on the podium in a debut Grand Prix.
The sport frequently became headline news during the 2007 season as a rivalry developed between the two drivers and the MacLaren team was found guilty of 'spying' on rival Ferrari to acquire confidential information. Fernando and Lewis, despite driving as teammates, were unable to hide their incompatibility and the season was characterized by an ongoing battle to be the best. It wasn't until the final race in Brazil that the champion was decided, and the two drivers ended the year on equal points behind Finland's Kimi "Iceman" Raikkonen.
Alonso became caught up in another controversy when he decided to quit the MacLaren team having only fulfilled a year out of his three-year contract. For a while it looked as if he might find himself without a team for the 2008 season, until he announced his return to Renault and the team declared their commitment to the new arrangement. Despite his return, the 2008 season didn't bring much victory, and 2009 was not much better, only achieving one podium result at the Singapore Grand Prix. In that same year, Ferrari announced that it had signed a deal with Alonso, who debuted in 2010. At the Bahrein Grand Prix he achieved third position, and his victories throughout the year elevated him to 2nd in the world. More recently, his only F1 victory in 2011 was at the British Grand Prix. 2012 was more successful, achieving a podium result in thirteen circuits, pushing him back to world number 2.   
One only has to mention Formula 1 in Spain to understand just how passionate this country has become, not only about Fernando as their hero, but also about the sport in general.