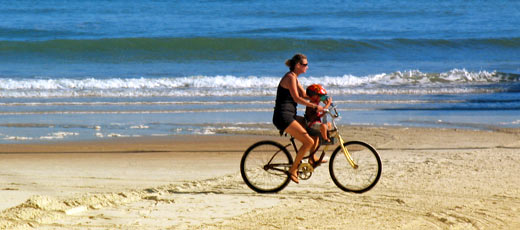 Biking in the Costa del Sol is one of the many adventures that visitors can experience. The Costa del Sol in Spain is a beuatiful place for biking.
Biking in the Costa del Sol is one of the many adventures that visitors can experience. The Costa del Sol in Spain is literally translated as the "Sun Coast", a name that highlights the fact that the region enjoys 325 sunny days a year. The good climate and amazing landscapes makes the Costa del Sol an ideal location for biking or any other leisure activity. Biking in Spain is a popular pastime and the country is known for its many quiet and traffic free biking routes.
The Costa del Sol is located in southern Spain, more specifically in the Autonomous Region of Andalusia and the province of Malaga. With over 150 kilometers (93 mi) of coastline on the Mediterranean Sea, the region offers stunning sceneries and beaches. Malaga extends from the stunning Maro cliffs through Nerja, known for the Balcón de Europa cave and scenic viewing spot, continues through Torrox, Vélez-Málaga, Rincón de la Victoria, the famous city of Torremolinos, Benalmádena, Fuengirola, Mijas, Marbella, San Pedro de Alcántara, Esteona, Manilva, the peaceful town of Casares, the community of Sotogrande, San Roque and finally the town of La Línea de la Concepción.
The geography of the Costa del Sol and the province of Malaga is exceptional for outdoors sports, offering something for everyone. The region offers impressive landscapes: from steep hills and mountainsides to huge plains, country sides with forests, mountains, valleys and cliffs, coastal areas, beaches and rivers, and extraordinary nature reserves that are ideal for mountain biking, hiking and hunting. These features make the Costa del Sol an amazing destination for water sports, extreme sports, winter sports and golfing, hiking, mountain biking, fishing and hunting. In fact, few places in the world offer such a wide range of activities.
There are more than 100 municipalities in Malaga, each offering its own routes for biking, horse riding or hiking. Visitors can head to any of the various local tourism offices or Town Halls to get updated information on these routes, as well as organized trips and detailed explanations.
For those who want to experience the Costa del Sol's stunning natural environment while biking or hiking, there are some outstanding places to explore. The Desfiladero de los Gaitanes, also known as "el Chorro", is one of Spain's most impressive gorges. El Torcal de Antequera, a nature reserve located in the Sierra del Torcal Mountains, is an impressive karst topography landscape littered with unusual landforms. Peña de los Enamorados is a huge rock that resembles the face of an Indian and is home to several prehistoric monuments including the Viera, Menga and Romeral dolmens. Other great areas to hike or bike on trails include the Libar Plains, the El Gato cave, La Sauceda (located in Alcornocales Natural Park), El Torrecilla (Malaga's highest mountain peek), Carnicerias Ravine and the Bermeja, Mijas, Almijara or Tejeda mountain ranges are all examples of the amazing scenic areas available to explore in the Costa del Sol.
The warm year-round climate in the Costa del Sol and Malaga in combination with its many impressive landscapes have led to the development of a wide network of clubs, tour groups and trainers that specialize in adventure and extreme sports. For Costa del Sol biking adventures, there are many tour groups to choose from that rent all the necessary equipment and provide extensive biking tours through the Costa del Sol.