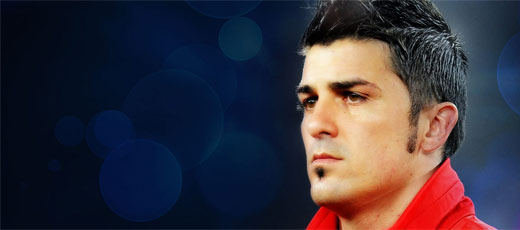 David Villa. Villa is a famous Spanish soccer player and top scorer. In the summer of 2014, he signed with New York City FC.
Professional soccer player David Villa has a biography of a true champion. David Villa has accomplished his dreams as a player with Football Club Barcelona and internationally with the Spanish National Football Team which went on to win the World Soccer Cup in South Africa in 2010.
David Villa was born on December 3, 1981 in Tuilla, a small town in Langreo, Asturias (Spain) to a family of miners. At a young age, David Villa showed a passion for soccer which his father supported and encouraged. When the budding soccer player was only 4 years old, he suffered a fracture to his right femur which put his future soccer career in jeopardy. Luckily, David Villa went on to make a full recovery from the injury. His father worked with him to strengthen his left leg which would ultimately lead David Villa to become an ambidextrous football player.
David Villa was signed by Real Zaragoza for 3 million Euros in the summer of 2003. The footballer played a big part in Zaragoza's victory over Real Madrid to become the champions of the 2004 Copa del Rey (King's Cup). David Villa's performance led him to be summoned to play on the Spanish National Team and in the Spanish Supercup against Valencia, the team that would sign the soccer player for 12 million Euros to play in the summer of 2005.
With the Valencia Football Club, David Villa scored 25 goals in his first season, second only to Samuel Eto'o, the league's top scorer who won the Pichichi trophy.
Luis Aragonés, the Spanish national team manager at the time, selected David Villa to play in the 2006 World Cup in Germany. Villa scored 3 goals in 4 matches for the Spanish national team.
In the 2008 UEFA European Football Cup, despite an injury that prevented David Villa from playing the final match, he was the top scorer of the competition. With Villa among the ranks of other young and talented soccer players of the Spanish national team roster, Spain had new hopes for the next World Cup and became favorites to win in South Africa 2010.
In the 2010 South African World Cup, David Villa battled and broke records of past Spanish national players: Raul Gonzalez, Fernando Hierro, Fernando Morientes and Emilio Butragueño. They had been top scorers for Spain in previous World Cups with 5 goals each; until David Villa scored 8 goals!
It was announced prior to the competition that Football Club Barcelona had made a deal with Valencia for 40 million Euros to sign David Villa. On May 21, 2010, the Asturian soccer player signed a 4 season contract with the successful Catalan team. They did not have to wait long for Villa's first goal, against A.C Milan in the Joan Gamper Cup on August 25, 2010. On November 29, 2010 David Villa scored 2 goals in a match between long time rivals Barcelona and Madrid. The new F.C. Barcelona striker's performance earned him an enormous ovation in Camp Nou Stadium.
In the summer of 2013, David Villa was traded from FC Barcelona to Atlético de Madrid, a team that welcomed him with open arms and big hopes.
In the summer of 2014, he signed with New York City FC. Surely David Villa, number 7, will continue to score and triumph with his rapid plays and good eye for goals.