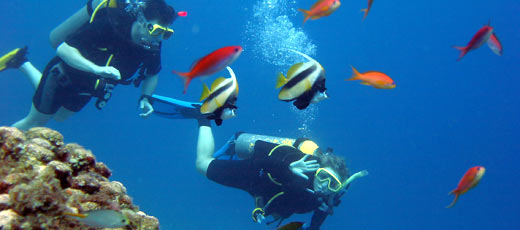 Scuba Diving in Spain. Find out information about diving in Spain. Places to go (Island of Tenerife, Cabo de Gata) and ideas about this adventure sport.
When we think of exploration and adventure what do we think about? As there are many possible answers to this question each one will depend on an individual's concept of adventure, however when we act on our adventurous instincts we realize what we want to. Nowadays, it would seem that almost anything is possible to do and one of the most exhilarating things would be seeking adventure doing things that cannot be done every day. One activity that fits this category of thrill-seeking adventure is scuba diving in Spain. A sport that is on the increase, this sport stretches the imagination and allows a person to plunge themselves into a world we take for granted, a world of which we think we know a lot about but the reality is that we know very little.
With facilities ready available and the opportunity to go in search of the aquatic world almost anywhere in Spain, Tenerife and Almeria are considered two of the best places to go diving. On the island of Tenerife, this island is considered the best place in all of Spain to go scuba diving thanks to its perennial spring like conditions, the water and air temperatures are always favorable for diving. The variety of sea life will give you many opportunities for spotting barracudas, parrotfish, giant anemones, turtles and other creatures around the many caves and wrecks that dot the seascape. Best of all, when you are out of the water there is an incredible variety of activities to participate in on land. You can go to the top of Spain's highest peak, go wine tasting in local vineyards or just relax on an isolated beach.
Andalusia is another excellent place to practice scuba with its beaches and clean blue seas making the experience all the more exciting. The Cabo de Gata National Park in Almeria has clear water and beautiful surroundings which offer ideal conditions for beach dives. What also makes the area special is that the Cabo de Gata is one of the few sub-tropical arid climates areas in Europe and was the first natural coastal zone to be classified as a protected area in Andalusia. The coastline belongs to one of the cleanest and most transparent areas in the Mediterranean Sea making visibility amazing when embarking on a scuba dive.
One of the great thrills of scuba diving is that we experience very different sensations under the water when compared to when we are out of the water. We see differently under water as well as hear differently. We perceive colors differently due to light being absorbed by water. As diving exposes people to a substantial amount of pressure, it is important to know how the human body changes in these conditions which is why taking courses and becoming certified is important in order to do it well.
Spain is a surprisingly good place for divers of all ages and levels. Here we have mentioned just two places in Spain that offer great scuba diving experiences, but since Spain is a country deeply related to the sea, there are diving opportunities all over the country. Come and see what underwater adventures await in Spain, you will be surprised at the variety and quality of the offerings.