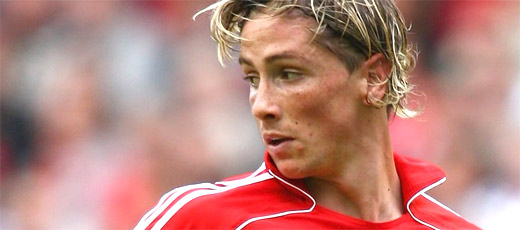 Fernando Torres biography. Read about the famous Spanish football soccer player Fernando Torres, Learnn as The Kid.
Fernando Torres, 26yr old football (soccer) player for Chelsea F.C. and striker for Spain´s national team was born on March 20th, 1984 in Fuenlabrada, Spain, a suburb of Spain´s capital city, Madrid. Torres is married to Olalla Domínguez Liste, the couple has one daughter, born May, 27th, 2009.
Torres´s first position on the field was in front of the net as a goalkeeper. He lost his two front teeth making a save, and on his account "it was a good save." After that, Torres moved to an attacking position where he would remain for the rest of his career. El Niño or The Kid, because of his baby face, was first noticed at age 11 by Atlético Madrid. From 1995-2001 Torres made his way through the youth ranks (U15-U21) for Atlético. Torres won the Nike Cup, his first youth title, in 1998, and would later be voted the best player in Europe while in this age group, U15.
El Niño continued to wow spectators and coaches with his high goal scoring count and mature vision of the game on the field at Vicente Calderón, the Atlético Madrid stadium. As the youngest ever, at 19 years old after the 2003-2004 season, Torres was made captain of Atlético Madrid. Torres played for Atlético for several more years before going to Liverpool, in 2007, where he played until 2011 when signed to Chelsea F.C.
Torres also plays for the Spanish national team and made his first debut at the senior level in 2003 in a match against Portugal. Naturally Torres had begun his career as a Spain national player by first working his way through the junior ranks. Torres helped Spain with the Euro 2008 championships against Germany, by scoring the winning goal and breaking Spain´s drought that had been on the books since 1964. A premiere player like Torres has joined the rich history books of footballers from Spain in as an international - worldwide sportsman.
In Spain, footballs´ beginnings were in 1909 when the Royal Spanish Football Federation (RFEF) was formed in order for Spain to field their own football club(s). The first task of this body was to organize the national team that was composed of semi-professional and local players scattered around the country. And while historians agree that England and France were the first nations to create an organized game, and at a quicker pace, Spain was not far behind.
In 1928 the first La Liga tournament was played in Spain as international attention grew as FIFA was also planning the first World Cup around this time. The teams that had success in the Copa del Rey (Spanish Cup) were chosen for La Liga: FC Barcelona, Real Madrid, Arenas Club de Getxo, Real Union, Real Sociedad, Athletic Bilbao, Atletico Aviacion (Atlético Madrid), RCD Espanyol, CE Europa and Racing Santander. FC Barcelona, Real Madrid, and Athletic Bilboa were the power houses of the league, trading championship titles during the 1930s.
After the Spanish Civil War, La Liga resumed, and new competitive teams like Valencia CF, Sevilla FC, and Atletico Aviacion entered their names to the league.
Modern Spanish league play is typically highlighted by the great rivalry between FC Barcelona and Real Madrid, arguably the greatest football rivalry in the world.