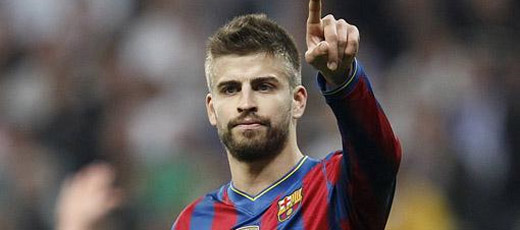 Gerard Pique. The Spanish soccer player, popularly known as simply "Pique", has become known as one of the best defenders in the world.
The famous F.C. Barcelona soccer player Gerard Pique Bernabeu was born in Barcelona on February 2, 1987. The player, popularly known as simply "Pique", has become known as one of the best defenders in the world. His soccer career has seen him play in Barcelona as well as other European teams. Gerard Pique is known for his size and strength and his position on the field. These qualities make him an insurmountable player on one-on-one encounters. Pique is perfectly complimented on the field by his teammate Carlos Puyol; together they form an excellent line of defense for the Catalan team. If we add the fact that Pique has the amazing ability to recover the ball and quickly send it back up field, he becomes a very complete soccer player.
Pique's beginnings
Gerard Pique began his sports career in the Alevin A team from Barcelona and began ascending through different categories of the club. During his rise to fame, Pique always showed off his abilities in the game, not only as a defensive player but also as a striker.
Although Pique had gone through all the lower ranks of Barcelona, his first professional contract was with Manchester United, with which he officially debuted in October of 2004 when he entered to substitute John O'shea against Crewe Alexandria. Manchester went on to win the match. In 2005, his contact was renewed although he would not become a starting player for the red team until March 26th, 2006, in a match against West Ham United in the Premier League.
In the summer of 2006, Pique was loaned to Real Zaragoza where he played the 2006-2007 seasons as central pivot ahead of the defense and also as central. He played 18 games as a starter and 4 as a substitute, scoring 2 goals in total. Real Zaragoza finished the season in sixth place of the league, classifying them to play the UEFA Cup.
Upon finishing the season, Pique returned to Manchester United. The team went on to win the Premier League and Champions League titles.
Return to F.C. Barcelona
On May 27, 2008, Gerard Pique signed a contract for four seasons with F.C. Barcelona and became part of Josep Gardiola's team. Gerard Pique has since become an important player for F.C. Barcelona both for his defensive and attacking skills. During his first season with F.C. Barcelona, the team earned 50 points and on May 16th, 2009 they became the mathematical League Champions when Real Madrid lost their match with Villareal.
This same season Pique won his second consecutive Champions League title when Barcelona beat Manchester United, his old team, two goals to one. The goals were scored by Eto'o and Messi in the Olympic Stadium of Rome.
In 2010 Pique renewed his contract with F.C. Barcelona until 2015, and in 2012 he played his 200th game with the club.
Pique and the Spanish National Team
Since his debut in the Spanish National Football team in 2009, Pique has played over 30 games. His interventions and ability to recover the ball has turned him into an indispensible defensive player.
In 2010, the Spanish National Football Team, under Salamanca native coach Vicente del Bosque, became the South African World Cup Champions.
Pique and Shakira
During the World Cup, rumors started to emerge regarding the relationship between Pique and the Colombian singer Shakira. Her "Waka Waka" video featured Gerard Pique, the only player to appear in the video of the official World Cup song. In 2011, the couple confirmed their romantic relationship. On the 22nd January 2013, Shakira gave birth to their first child, a son, in Barcelona.