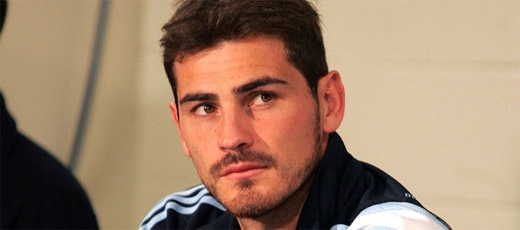 Casillas is a famous goalkeeper and team captain who plays for Real Madrid. Learn more about Iker Casillas, probably the most famous Spanish soccer keeper.
Iker Casillas Fernández is a famous goalkeeper and team captain who plays for Real Madrid in the Spanish Soccer League and the Spanish National Soccer Team. Iker Casillas helped lead the Spanish national team to win a European Championship and in 2010 Spain won the FIFA World Cup for the first time. The soccer player was individually honored with the Golden Glove Award as the tournament's best goalkeeper. Iker Casillas is considered one of the best goalkeepers in Europe and has been nominated twice for European Footballer of the Year and in 2010 he was honored with the Prince of Asturias Award.
Casillas was born in the Community of Madrid in Spain but would also spend some of his youth in the Basque region. He entered into the Real Madrid's youth program in 1990 and made was first called up to play on the first team in 1997 at age 16 in a UEFA Champions League game. In the 1998-1999 season he made his official debut in the senior Real Madrid team, substituting Bodo Illgner. His performance earned him a spot in the next season, converting Iker Casillas into the youngest soccer goalkeeper ever to play in a Champion's League Final just days after turning 19.
Iker Casillas would prove himself as an agile and remarkable goalkeeper, able to make impressive stops that would lead him to an incredibly successful career.
In December 2010, Iker Casillas played his 400th game with Real Madrid converting him into the 9th player with the most games under his belt with Real Madrid. The same year Iker Casillas also became the most capped football player in the history of the Spanish National Team, after Andoni Zubizarreta, and surpassed German Player Oliver Khan for number of games played in the League of Champions.
The same year that Spain won the World Cup, Iker Casillas' girlfriend, Sara Carbonero, also made headlines. Sara Carbonero supported the team in South Africa and Casillas' girlfriend became known as their lucky charm. After winning the competition, Iker Casillas kissed girlfriend Sara Carbonero in a televised event that made headlines all over Spain.