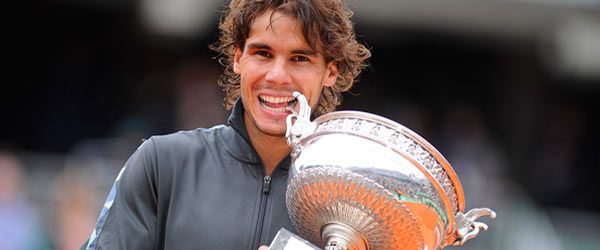 Rafa Nadal biography. Find out information about the famous Spanish tennis player & Roland Garros winner Rafael Nadal.
Rafael "Rafa" Nadal Parera is a famous Spanish tennis player who has been ranked No. 1 in the world in 2008, 2010 and 2013, and has finished 5 seasons ranked as number two and one season with a number four ranking. In the summer of 2014, his ranking has reached number one once again.
Born on June 3, 1986 on the Balearic Island of Mallorca, located in the Mediterranean Sea just off of the coast of Spain, and began to shw his tennis prowess at the young age of five years old. Right away he found himself being coached by his uncle, famous Barcelona Soccer Player, Miguel Ángel Nadal. His rapid progression, thanks to daily practices and self determination, became evident when he won the Balearic Championships for his 8 year old age group. In 2001, Nadal would enter the professional tennis world by storm. First, by winning a professional tournament event in Seville and second, when he became the youngest player ever to reach the third round of Wimbledon when he was just 17 years old. Until that time the record holder was German tennis great, Boris Becker.
Rafael Nadal has achieved great things in his tennis career, defeating great tennis players, winning Grand Slams and earning numerous sporting awards. In 2005, he showed his clay-court ability as he claimed his first Masters Series event in Monte Carlo. The ease with which he plays on clay courts has earned him the nickname "King of Clay", but he continues to adapt his game for grass and hard courts as well. From April 2005 to May 2007, Nadal became the youngest player in tennis to be ranked in the world Top 100 by defeating the then number one and 12-time Grand Slam singles title holder Roger Federer. Nadal went on to win a record 81 consecutive clay court matches before being defeated by his long-time opponent Federer in the 2007 Hamburg Masters final. By the time he was 18 years old, he won the Davis Cup, which is the largest and most prestigious international men's team event in tennis, with Spain in the singles match category.
One curious aspect of Nadal's play is that although he is naturally right-handed, he plays stronger with his left hand. This allows him to hit a strong two-handed backhand accompanied by a well-angled spin. His heavy strokes, combined with fast mobility and excellent defense allows Nadal to take his opponents out of their comfort zone. His aggressive style on the court, rustled hair and muscular build has made him a consistent favorite among tennis enthusiasts and with female fans as well. His relationship with his family keeps him grounded amid the constant attention of the media and despite his success and unarguable wealth, Nadal remains a humble and family-centric person at heart.
At this point in his carrer, Rafael Nadal has won thirteen Grand Slam singles titles and the 2008 Olympic gold medal in singles, although injury prevented him from competing in the London Olympics in 2012. This injury has been a recurrent in his career since then and had caused him to drop to the number five position in the ATP ranking. But, thanks to his tenacity and capacity to work through pain and adversity, Nadal rose up from the flames like a phoenix during the 2013 season. His achievements since then have made him the second man in history with the most individual Grand Slam titles behind Roger Federer. He has won consecutively five French Open singles titles, surpassing Björn Borg's mark of four consecutive titles from 1978 to 1981, at Roland Garros. Nadal has won the French title nine times overall, again another first for Rafa Nadal. In 2008 he also became the second Spaniard to win Wimbledon (winning it again in 2010) and received the prestigious Prince of Asturias Award for his achievements in sports. He is the only player that can claim to have won the French Open, the London Queen's Club, and Wimbledon in the same year. Obviously, his star will continue to shine...