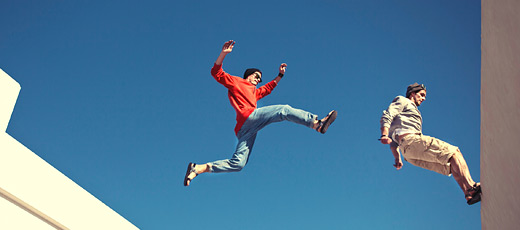 Parkour in Spain. Parkour did not really take off in Spain despite the release of some major Parkour films in Spanish cinemas.
Vault your way over walls and jump from rooftop to rooftop.  It sounds like an action sequence straight out of the latest video game but in actual fact it is a real-life hobby practiced by an international community. Its name? Parkour. But how did this activity move from its humble beginnings in France to become a pastime practiced worldwide? What about Parkour in Spain? Is it popular? And what does the future hold for this exhilarating hobby? This article aims to consider these questions and to understand why Parkour is such a popular activity.
Parkour is a method of getting from A to B in rural and urban areas as quickly as possible negotiating objects in your path by climbing, sliding, jumping and running.
Parkour derives from the French "parcours du combattant", a term referring to French military obstacle courses which was adopted by Raymond Belle to refer to his physical training and later altered to Parkour by his son and Parkour´s credited founder David Belle.
Freerunning, an offshoot of Parkour developed by Sébastien Foucan and originally supposed to be an English translation of Parkour, can be distinguished by its focus on creative expression through flips and somersaults.
The first practice of Parcours, as it was originally called,can be traced back to 1984 when David Belle started training Parcours influenced by his father.  He then made friends with a group of teenagers including Sébastien Foucan which would later become known as the Yamakasi.  However Belle and Foucan would not stay with this group and they left to set up the group 'Traceur' (a term still used today as Parkour practitioners are referred to as 'traceurs'/'traceuses' (female form), from the French verb 'tracer' which means 'to trace a path') which changed Parcours to Parkour in 1998.
So far we have seen the roots of Parkour but we have not explained how it received national and international recognition. The introduction of Parkour on a national and international scale can partly be attributed to the media, film, television and the internet. In 1996 the Yamakasi group introduced the public to this activity when they appeared in an interview with a French television network where they used the French term ´l`art du deplacement`(the art of movement) to refer to this practice.
Several films also helped to increase Parkour`s international popularity. In 2001, LucBesson`s Film ´Yamakasi´, which included original members of the Yamakasi group raised the international awareness of this art with its release in countries such as Mexico and Spain.  In 2006, Sébastien Foucan`s Free running and Parkour chase at the start of the James Bond film 'Casino Royale' further increased the worldwide interest in this movement especially among the media. A technological development which allowed Parkour to spread around the world was Youtube. In 2005 with the arrival of this video sharing website practitioners of this hobby could share videos of their moves thereby creating a virtual network of fans and fellow traceurs.
Not much information exists about this activity in Spain which may lead you to the conclusion that it did not really take off despite the release of some major Parkour films in Spanish cinemas. However, if you scratch below the surface you actually find out that it is popular not only among individuals but also among groups. The 2013 opening of the first public access Parkourparkin Cordoba may give you the idea that this activity developed very recently in Spain but there are actually groups and individuals who started practicing this sport long before this significant event. A major pioneer of Parkour in Spain is David "Gato" Henzen, a Swiss Parkour runner who grew up in Vigo in the autonomous community of Galicia. 
However, Parkour is not just an individual sport and many friends have joined together to share their passion for this activity. Take for example the renowned group called the Galizian Urban Project (GUP). Founded in 2008, it consists of 9 highly experienced, professional athletes who were brought together by their love for this activity. The group boasts an impressive résumé and it hasparticipated in several worldwide workshops, masterclasses and competitions such as the Red Bull Art of Motion and Xtreme Gravity. The members also draw on all their experience and skills to collaborate on commercials, films, television programs and other action performances and to work as stuntmen and Parkour/ Freerunning coaches. This is a really exciting group which does not hesitate to push the boundaries of what is possible in this activity.
We have looked at the past development of Parkour and at some of its current talent in Spain but what about the future? In 2014, some of the leaders of the Parkour world met with the International Olympics Committee to discuss the possibility of Parkour featuring in future Summer Olympic Games. Nevertheless, the Parkour community is divided on whether this would be the best direction for this activity with some arguing that it would be too complicated and against its philosophy to turn it into an Olympic sport.
In conclusion although Spain is not widely recognized for its Parkour, I hope that this article has shown that there is actually a vibrant and passionate community developed in part thanks to the reputations of individuals and groups like David Henzen and GUP.  If this article has encouraged you to start practicing this activity yourself there are a wide variety of resources online including videos and instruction manuals with photos.
There are also many International Parkour Associations which can provide you with information about qualifications you can gain when you become more advanced. You can also attend some of the Parkour festivals which take place  throughout the world to watch professionals and to give you a taste of what you could achieve or you can visit the GUP's page or YouTube to watch highly skilled masters of this art. Finally, David Belle once said 'First, do it. Second, do it well. Third, do it well and fast — that means you're a professional.' This quote perhaps outlines some of the best advice for a beginner who wants to start Parkour. Just go for it! You might not be great at the start but after practicing you will start to become more agile and confident whilst recognizing your limits. Who knows one day you might be as famous as David Belle and even if you do not, you will become part of an international and revolutionary community whilst keeping fit and making new friends.