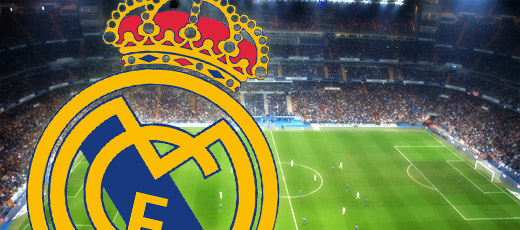 Real Madrid Footbal Club. It was founded in 1902 and since then it has become one of the most famous and honoured football clubs in the world.
Real Madrid football club is registered as a sporting society and it has its headquarters in the Spanish capital, Madrid. It was founded in 1902 and since then it has become one of the most famous and honoured football clubs in the world and statistically it is the Spanish team with the most trophies.
Real Madrid was the first team to win the European Cup and the only club who has won it five times consecutively. The club has more than 5,000 official titles of which 75 are recognized by the UEFA.
The club's classic rivals are Barcelona football club, who they play every season in matches known as "the classics" and Madrid Athletic who they fight with over the famous "derby madrileño".
Real Madrid has more than 85,000 members, to whom the ownership of the club belongs, since it is one of the few clubs of the Spanish league which is not a corporation. Economically speaking, the club is worth 951 million euros (1,285 million dollars) and it earns 350 million euros each season. The club pays astronomical amounts of money for new signings, paying almost €100 million for Cristiano Ronaldo from Manchester United in 2009, and more recently acquiring British football player Gareth Bale for €100 million, the highest amount ever paid for a transfer, in 2013.
Like every sports club, Real Madrid has had its glory phases but it has also had its down phases. Every Spaniard remembers two main periods in history: the period of the Quinta del Buitre (1981-1990) marking out the best players at that time as Emilio Butragueño, Michel and Hugo Sánchez who won 5 league championships; and the stage of the Galatic era, with Raúl, Zidane, David Beckham, Guti…lead by del Bosque, they conquered tow leagues and the ninth European cup.
The stadium is called Santiago Bernabéu, which belongs to the club. It was founded the 14th December 1947. Situated in the famous Paseo de la Castellana madrileño, it has a seating capacity for more than 80,354 people. In 2010 this stadium will hold held the final of the UEFA champion´s league.
Currently, and after getting over the crisis of a triple defeat of its arch nemesis, Barcelona, Real Madrid faces a restructure. The new signings are giving new hope to its members, especially for those who like watching football. Everywhere the names of Cristiano Ronaldo, Kaká and Xabi Alonso who have been signed to strengthen the team of Raúl González and Íker Casillas, and in that way make football lovers enjoy the game as much as possible.
At the end of 2013, Jose Mourinho left the club as manager after three years in the role, and was replaced by Carlo Ancelotti.