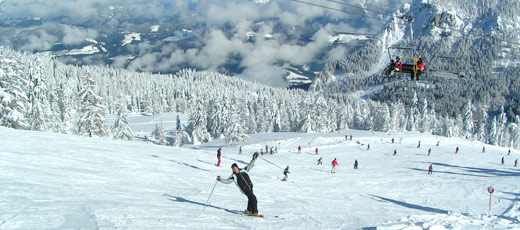 Spain is famous not only for its beaches but also for its ski resorts. Read more about skiing in Spain.
While Spain is famous for its sunny beaches, very few tourists know that it's skiing during winter that gives the country its attractive "holiday-getaway" charm. Spain is home to 5 main skiing regions: the Pyrenean Range, the Cantabrian Range, the Iberian Chain, the Central Chain and the Penibetic Chain.
The Spanish terrain is also the second most mountainous in Europe, making it an ideal place for skiing, snowboarding, ice skating and other winter sports. Many of its ski resorts in Spain are near large cities as Madrid, Granada, Valencia and Barcelona and easily accessible by public transportation. So whether you head North, South, East or West in Spain, there is always a place available for a few unforgettable days of winter fun! Just remember that ski season runs from the end of November through to April or May, depending on conditions.
The oldest ski resort in Spain is La Molina, located in the Catalan Pyrenees, just a 2-hour drive from Barcelona. The most popular skiing location is 36 kilometers (22 miles) south of Granada: Sierra Nevada. It is Europe's most southerly ski resort and one of the highest at 2,150 meters. It is a popular ski destination because with 321 days of sunshine a year and close proximity to the Mediterranean Sea - a mere 70 kilometers (43 miles) - Sierra Nevada enjoys the best weather year round. Many visitors take advantage of this unique weather mixture by skiing and sunbathing on the same day! It IS possible! Sierra Nevada also holds the World Alpine Ski Championships, and offers incomparable conditions as a take-off point for hand-gliding during the summer season.
Baqueira-Beret is Spain's largest and most exclusive resort high up on the Pyrenees. It is a very popular among Spanish skiers and seems to be a favorite of Spain's royal family.
Puerto de Navacerrada is near Madrid at 75/km (46 miles). You can also find pretty good skiing locations in the mountains north of the capital city. A couple of them are Valgrande-Pajares in Asturias and Alto Campo in Cantabria.
Additional skiing locations throughout Spain are: Formigal, Panticosa, El Tarter, Pal, La Pinilla, Masella, Valcotos, Valdesquí, Burguete and Candanchú.
Spain becomes a completely different place during the winter season, and you'll find it hard to believe that you're in Spain. But one thing remains the same and that is you get the chance to experience life the way locals live it by enjoying the simple pleasures each region has to offer no matter what the season