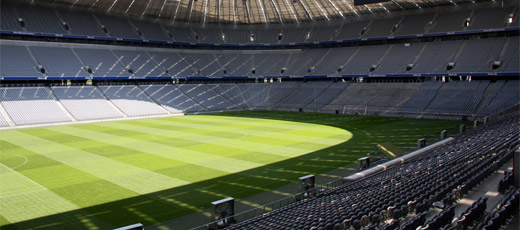 Find out more about soccer in Spain and learn more on the Spanish soccer teams – Real Madrid, Barcelona, Athletic de Bilbao …
Soccer in Spain (or fútbol in Spanish) is much more than just a game. It's almost a religion for some of the fans. Week after week millions of Spaniards pack themselves in local bars and passionately follow their favorite soccer teams. The country stops and the streets empty whenever an important partido de fútbol (soccer game) is being played.
Spain has a great history of soccer, arguably only beaten by England and Italy in terms of football heritage. Names of players like Raúl, Puyol or Casillas constantly come up in sports press around the world.
Soccer in Spain is inexpensive with tickets available at times for less than 20€ if you're a member of the Club. If you have the chance to see a game in which Real Madrid, Barcelona, Sevilla or Athletic de Bilbao are playing, you'll definitely be in for an exceptional night of soccer.
It's a passion for men, women and children of all ages, and people who come from countries where soccer is not so popular may find it a difficult to understand. But just like that commercial says: Spanish Soccer is Life