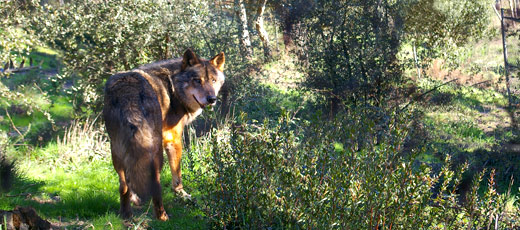 With a Mediterranean and continental marine climates with varying temperatures and irregular rainfall, Spanish animal and plant life varies greatly.
Spain has a diverse geography and climate meaning that there is a wide variety of native Spanish animals.  Spain contains portions of the Southern European Montane Forest and Mediterranean Shrubland and Woodland areas. The country's diverse ecosystems consist of different types of habitats for Spanish native wildlife including: costal aquatic, polar, alpine, grasslands, shrublands, forests, woodlands, crops and settlements.
With Mediterranean and continental marine climates with varying temperatures and irregular rainfall, Spanish animal and plant life varies greatly. Spain boasts diverse terrains with mountainous regions, a Mediterranean and Atlantic Coast with a lot of dry terrain between, aiding to the diverse Spanish native wildlife. In Europe, Spain is second only to France with a total of 128 different mammal species.
Spain also maintains a considerable amount of land as nature reserves to preserve and protect wildlife in Spain.  According to the 2009 EUROPARC – Spain State Protected Natural Areas Yearbook, Spain has declared 550.000 hectares (184.009 of which are marine areas) of the Canary Islands as nature reserves. Only 1% of Spain's sea surface is protected but 12.1% of its land surface is officially preserved. This figure jumps to 28% if you take into account the Natura 2000 protected areas, converting Spain into the European country with the most protected spaces.  Every year, the list of certified protected areas grows in an attempt to save the native Spanish animals and plants.
Among Spain's indigenous animals are a wide variety of deer, Iberian wild goats, tortoises, bats, snakes, and small reptiles and amphibians. Larger native Spanish animals are mostly endangered including Cantabrian brown bears, Iberian wolves and Iberian lynxes.  Due to Spain's key location for migratory birds traveling from Europe to Africa, Spain is fantastic for bird watching and is home to a large number of bird species. Some Spanish native birds include species of vultures, eagles, kites, bustards, storks and flamingoes.
Endangered Wildlife in Spain
According to the 2009 infamous "Red List," created by the International Union for the Conservation of Nature (IUCN), the Spanish peninsula and surrounding waters are home to 227 endangered species including: 16 mammals, 15 birds, 19 reptiles, 6 amphibians, 61 fish, 26 mollusks, 35 invertebrates and 49 plant species.
Overpopulation of coastal zones has endangered animals like the monk seal and the fish eagle while Spanish wetlands have been reduced drastically putting at risk the habitats of numerous other species. Some animals have adapted to centuries of human development and changing farming techniques while others such as rodents, bats, salamanders and birds have been badly affected. Other threats endangering Spanish wildlife include contamination (pollution Pesticides, industrial residues, plastics, toxic gasses, toxic waste) and fire (10 - 20 million hectares destroyed annually).
Despite conservation efforts, many native Spanish animals are recognized as endangered wildlife.  Among the critically endangered animals are: the Iberian Lynx (the most endangered cat species in the world), the Mediterranean Monk Seal, the Hierro Giant Lizard and Spengler's Freshwater Mussels.  Endangered wildlife endemic to Spain include the: broom hare, Canary shrew, Osorio shrew and Canary big- eared bat.  Other animals at risk of regional extinction in Spain include Cantabrian brown bears and various whale and bat species, among others.