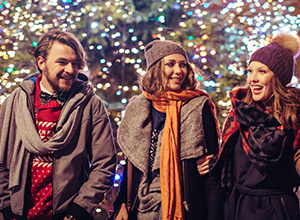 ¡Felices Pascuas y próspero Año Nuevo!
Here's our holiday-season roundup of Spanish vocab that you may want to know during this festive time of year. 
It's important to remember the difference between la Pascua (which refers to Easter Week) and las Pascuas (which to refers to the Christmas season).
This is where we get experessions like hacer la pascua  (which means "to bother") and estar como uas pascuas (used to describe great joy).   
To wish someone a "Merry Christmas and a happy New Year!" you can say ¡Felices pascuas y próspero Año Nuevo!
Special days on the Spanish Christmas calendar include: Nochebuena (Christmas Eve), Navidad (Christmas Day), Día de los inocentes  (Dec. 28, this is the equivelant to April fools day in some cultures), Nochevieja (New Years Eve), Año Nuevo (New Year's Day), and Día de los Reyes Magos (King's Day on Jan. 6).
Although it's a tradition that's fading into the past, classified workers such as mail carriers and street cleaners used to receive a special Christmas bonus called a guinaldo.
When we talk about getting together to celebrate the holiday season, in Spanish we say Pasamos las Navidades con la familia, using the verb PASAR and not ESTAR or QUEDARSE. We say Partimos el año to talk about getting together with friends on New Year's Eve.
Speaking of the last day of the year, in Spain we have a somewhat modern but widely observed tradition, which is tomar las uvas; participants consume one grape for each of the 12 chimes of the clock tower bells at midnight.
We Spaniards like to send Tarjetas de Navidad, although for a time it was popular to talk about sending Crismas, an expression that comes from the English "Christmas card".
Watch out on el día de los inocentes! On Dember 28, anyone could be the target of una inocentada, in other words a practical joke from some friend or even someone you may not know.
And let's not forget to prepare turrones, the hard kind and the soft kind (from Jijona and Alicante), mazapanes (they say the best is from Toledo), mantecados, alfajores, and peladillas (almonds or peanuts covered in a hard layer of sugar). Also remember to prepare the zambombas to sing villancicos at the Misa del gallo at midnight on Nochebuena.