Alicante Beaches
Urbanova - El Saladar Beach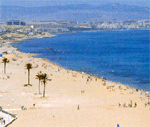 The long and quiet "Playa del Saladar", better known as "Playa de Urbanova", is a beach located 5 km down south from Alicante city, close to El Altet airport. This Alicante beach has all you need, a long stretch of sand to walk by, beautiful dunes in one of its ends to visit, as well as restaurants, shops, fun areas and houses nearby. There are no parking problems by this 1.5 km beach characterised by superior views of Alicante city and its bay with plenty of room to lazy around on the thin golden sand.
Postiguet Beach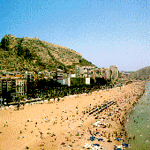 The beach of "El Postiguet", located within Alicante city, is surrounded by a reasonably crowded maritime promenade bordered with beautiful palm trees.

El Postiguet beach has an awesome urban infrastructure typical of a widely visited place, by being a meeting point of leisure summer nights. The origin of its name, "postiguet", comes from the previous existence of a secondary gate ("postigo" in Spanish) that gave access to the town. Recently a golden sand strip of beach by the rocky area of Cocó has been recovered. Situated by the "trenet", a coastal railway running between Alicante city and Denia, this golden strip is quite close to El Postiguet harbour.
Albufereta Beach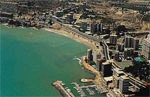 Albufereta Beach runs northeast along the Costa Blanca, up from Alicante city. Its name "Albufereta" comes from a previously existing "albufera" or small coastal lake that had its own harbour. Surrounded by plenty of palm trees and cactuses, this lively Alicante beach bordering with two cliffs on the sides is a great choice for swimming, fishing and doing other water sports as it is sheltered from the sea currents.
San Juan Beach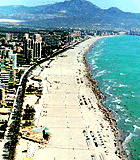 Located 10 km north of Alicante city, "Playa de San Juan" is the most gorgeous beach in the province. It is 7 kilometres long and goes from "Cabo de las Huertas" to Mutxavista Beach.
Characterised by thin and golden sand, the wide San Juan Beach is now a semi-urban touristic centre with a blue flag award given to clean beaches that respect the environment and have enough infrastructures as well as good road, train and bus access for tourists and locals alike. It is also full of restaurants, hotels, shops and leisure places that include a golf course nearby and one of the best nightlife in the province.
Almadraba Beach
The "Playa de la Almadraba" is a small and rocky sandy beach with calm waters and good access. It is located between the Alburefeta Beach and the Cape of "Las Huertas".
Cabo de Las Huertas - Coves
Located between Alicante city and "Playa de San Juan", "Cabo de las Huertas" is a spot surrounded by rocky coves with challenging access such as "Cala de los Judíos". Additionally, there are some well known nudist coves nearby characterized by its serenity and distance such us "Cala de la Palmera" and "Cala Cantalares".