Food and Drink in Alicante
Mediterranean food is the trademark of Alicante"s cuisine. Local fresh and good quality ingredients are essential in the food typical of Alicante. Ancient irrigation techniques help the city"s market gardens grow plenty of vegetables and fruit. We have to highlight that rice is the king in Alicante food. Tasty seafood and fish are caught daily and served promptly after. Cured meats are also produced nearby.
Some examples of Alicante food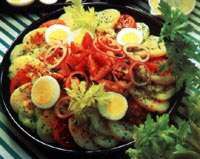 Salads are often served with salted entrees like "mojama", "hueva", "marrajo", roe, "bonito"or salted tuna. Olives, pickled capers, guerkins, and capers in vinegar can be eaten with extra virgin olive oil produced locally in the province of Alicante. There is also the excellent caviar from Alicante with herring"s roe spread with butter.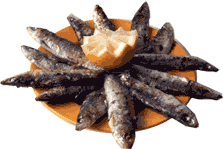 Sardines, red mullet, tuna and whiting are well known examples of fish taste, variety and quality caught off the coast of Alicante. There is also fantastic seafood like squid and red prawn, which you can grill or season with alioli, a sauce made of garlic, parsley and oil.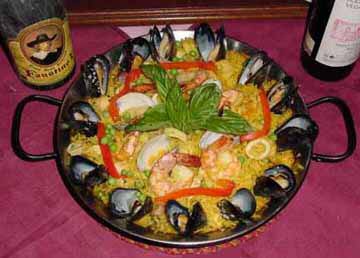 Let"s explain now the trademark of gastronomy in Alicante, rice, a grain which can be easily cooked in multiple ways. The "arrocerias" or rice restaurants cook various rice dishes daily and have an incredibly wide choice of rice specialities in their menus.
Typical rice dishes made with fish and seafood are "arroz a banda", caldero, "arroz a la marinera". There are also rice dishes made with meat such us "arroz magro" with vegetables and lean mean or "arroz con conejo" (rice with rabbit). Alicante cuisine also has other dishes such as "arroz con costra"(rice with a baked egg on top) and "olleta" (a delicious type of broth).
Typical fruits grown in Alicante are great desserts such as citrus (oranges and lemons), pomegranates and dates. In summer drinks such as "horchata" (made with almond or tiger nut milk) as well as others made of iced coffee or lemon are very typical.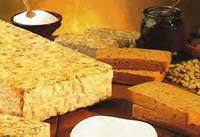 However, the most notorious dessert is the nougat or "turrón", a typical Christmas dessert from Alicante made of almonds and sugar. There are two kinds of "turrón", hard and soft. The first is known as Alicante nougat, the second is called Jijona.
Finally we have well known full bodied red as well as fruity white wines with Denomination of Origin of Alicante. A good example of this is "El Fondillón" fortified wine, drank by the Spanish king and queen more than four centuries ago.