Alicante Weather
Now in the Region of Valencia:
You can view the weather for the province of Alicante on this page.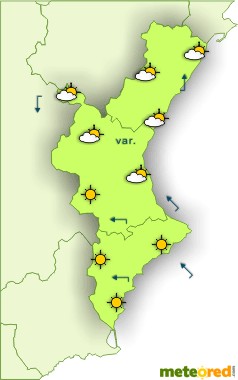 Weather in Alicante today
Alicante weather is well known for being a very mild one amongst the towns along the Costa Blanca. The reason is that Alicante is in a sort of microclimate, since the city is surrounded further north by rather high mountains (about 1600 m high) and closer up north by smaller hills. Even in winter the average temperatures do not fall below 11° C while there are only twenty rainy days per year.
Average Weather Temperatures in Alicante
Below we have the monthly average weather temperatures in the city of Alicante:
January: 11,4 °C
Febrary: 12,2 °C
March: 13,9 °C
April: 15,7 °C
May: 18,8 °C
June: 22,3 °C
July: 25,3 °C
August: 25,7 °C
September: 23,5 °C
October: 19,1 °C
November: 15 °C
December: 12,2 °C