Barcelona Photos

Park Güell:
Güell park, designed by Antoni Gaudí, is the most famous park in Barcelona, declared a World Heritage Site by UNESCO. It has been subject to all types of praise and cristiacism, including comments such as "outrageous modernism", "surrealistic island", "nightmare expressionist park".
Barcelona Beaches:
You can choose between a huge variety of facilities. Barcelona has over four kilometers of beach just for you!.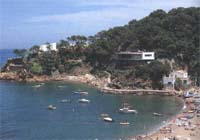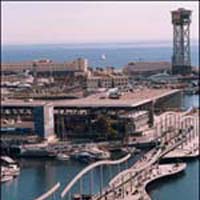 Maremagnum:
The Maremagnum Centre, located in the heart of Barcelona's "Port Vell" (Old Port), holds the "Sala Maremagnum", a hall with a total indoor surface area of 900 sq. m. (close to 10,000 sq. ft.) and a private terrace measuring some 550 sq. m. (6,000 sq. ft.) with exclusive, direct access through the hall itself.
National Palace of Montjuic:
This palace, built by the architects Cendoya, Catá and Domènech, was constructed in 1929 in order to house the installations for the International Exhibition of that year in Montjuic, and to display a selection of Spanish art. Along with other buildings from the same exhibition it should have been knocked down when the exhibitión ended, but it was preserved and the Catalonia Art Museum, which hitherto had been in the Arsenal building in the Ciudadela park, was housed there.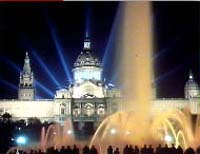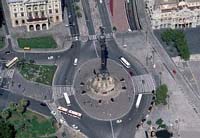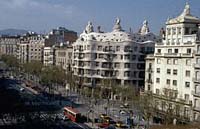 Passeig de Gràcia - Colombus Statue
Maps of Barcelona
Click here to see a full map of the city.
More towns and cities
Know more towns and cities in the community of Barcelona.