Girona Guide
The province of Girona in the northeast of Spain, border, France and the provinces of Barcelona and Lleida. It covers an area of 5,886km2 and has a population of about half a million inhabitants. The capital is Girona, and the entire province is divided up into six judicial districts, eight regions (El Gironés, La Garrotxa, El Baix Empordá, El Alt Empordá, Pla de I'Estany, Selva, Ripollés and Cerdanya), and 235 municipal districts.
The most striking characteristic about of the province is undoubtedly its great diversity. From a tourist point of view it can offer a magnificent coastal area -the internationally recognised Costa Brava- as well as a fine mountain region, which is ideal for both tourism and the practice of a wide variety of sports. This balance between coastal and inland scenery, along with a mild climate, helps attract tourists to the province throughout the year.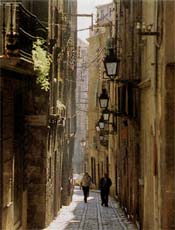 The 12C was characterised by the building of many outstanding Romanesque constructions. And during the Gothic period the city began to expand and enlarge its walled sections, which spread towards the districts that had grown up around the Roman part. Even during the 16C and 17C there was an increase in the of defenses construction, including fortresses, military barracks and other such buildings. The magnificent walled area, which is preserved in almost its entirety, was last put to the test during the famous sieges of 1808-09 when it faced Napoleon's troops.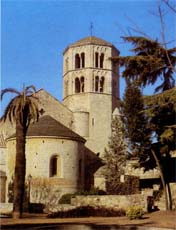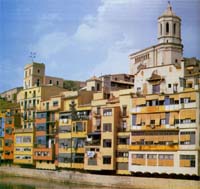 In spite of everything, the strategic and defensive roles of the city did in no way impede the development of an historic centre of exceptional value. One fine example is the Cathedral, an enormous construction that was painstakingly built over many centuries. The cloisters and the so-called Carlemany Tower contain some fine examples of Romanesque art. The Gothic nave, measuring 22.98m in width and 35.2m in height, is unique of its kind, while the main façade shows clearly Baroque influences. Inside, we find the Chapter Museum, containing such outstanding exhibits as a manuscript of the Apocalypse (10C) and the famous tapestry known as 'The Creation' ( 12C ).
Maps of Barcelona
Click here to see a full map of the city.
More towns and cities
Know more towns and cities in the community of Barcelona.