Barcelona's Festivals
One of the most important celebrations in Barcelona is the Mercè in honor of the patron saint of the city. The main event takes place on September 24th, although various pageants, concerts and activities begin three days earlier. Three of the most traditional events around the Mercé celebrations are:
'Els Castellets' or building of human towers. The 'castle' is deemed to be complete when the smallest person, usually a child, stands at the top. Event activities begin three days earlier.
'El Correfoc', 'diablos y demonios',, which is Catalan and Spanish for "devils and demons", a costume event where people dressed as devils demons armed with all sorts of fireworks go through the streets.
'The fireworks and music spectacle on September 24th', happen at 10 o'clock in the evening which signal the end of all celebrations.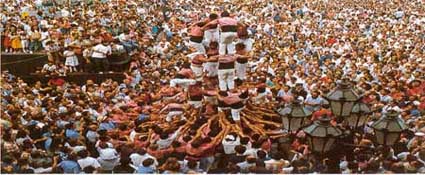 People doing a human castle, called "Els Castellers" in catalan.
The Procession of the Three Wise Men on January 5th inaugurates the year's festivities.
Carnival is celebrated in February with parades and fireworks set off by the Colles de dracs.
March 3rd is the festival of Sant Medir, celebrated in the Gràcia district with a procession, including the tossing of candy to watching children.
April 23rd, festival of Sant Jordi (St. George) is the day of roses and books. Stalls throughout the city offer books and roses for sale. Declared World Book Day by UNESCO in 1995.
Corpus Cristi festival is celebrated in June with parades of giants and big-headed carnival figures. The fountain of the Cathedral's cloister is the site of the traditional ou com balla (Dancing egg).
June 23rd, summer solstice on the eve of Sant Joan (St. John), is a night of bonfires and fireworks in the squares and streets.
The Assumption festival on August 15th is celebrated in the area of the Gràcia Quarter while the neighborhood fills the streets.
September 24th is the festival of La Mercè, patroness of Barcelona. This is a time of big celebrations with four days of musical performances, parades of giants and big-headed figures, fireworks, cultural and sport events, and open-air dancing in various places in the city.