Estepona Parks
Los Reales de Sierra Bermeja
To the southwest of the province of Malaga and to the south of the mountains of Ronda. Principal accesses: N-340 and C-341.
The forest resources are the most common thing in this zone, from the exploitation of the cork and the wood up to the compilation of fragrant plants. The agriculture has been displeased by the great tourist importance of the coastal adjacent band.
Flora
The most showy of the flora is the presence of forests of Spanish fir. The pinegroves, the blockheads abound, junipers and coscojas. In the reales appear species of high mountain as the Moorish gorse, the denim gorse or the thin piorno, besides the palmetto, rosemary, and other species of bushes. The plants endemismos are numerous.
Fauna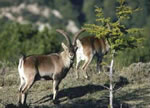 The species faunísticas more interesting are the wild goat, the roe-deer, the otter, the mongoose and the wildcat. Diverse greedy as the worn eagle, the tawny vulture, the sparrow-hawk, the real owl and the owl little live these places. Among the amphibians they find the salamander and the common toad, and the most frequent reptiles are the leprous tortoise, the snake blocks up and the common eslizón.
SIERRA DE LAS NIEVES
Saw of Snows Natural Park (Parque Natural Sierra de las Nieves) is located at the heart of the natural Serrania de Ronda region, in the province of Málaga. This mountainous area is punctuated by deep ravines and spectacular cliffs, such as La Caina, with a drop of over 100 metres. Furthermore, the limestone nature of the earth has created a number of potholes, such as the G.E.S.M., the world's third deepest at 1,100 metres The highest peak is Torrecilla (1,919 metres) in the Sierra Blanca de Tolox. Its greatest treasure are its conifer forests dating back to the tertiary period, featuring the Spanish fir, the most unusual species of fir in the world.
Its relief is extremely rugged, with the deep ravines, high cliffs and gorges characteristic of Alpine folding.
Flora
In the mountain peaks, where precipitation and fog are common, large numbers of gall oaks and Spanish firs are to be found. At lower altitudes the holm oak and cork oak thrive. There are also small collections of madronnos, chestnut trees, yews, maples and ashes.
Fauna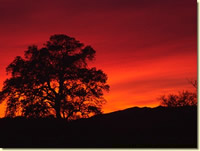 Darkness in the SawThe area is home to one of Andalusia's largest communities of mountain goat, one of only two wild species of large hoofed mammal native to the Park, the other being the deer. Other species such as the stag and mountain ox have been brought in, the Park providing them with an excellent habitat. Also to be found here are certain animal species protected by law, such as the wild cat, golden eagle and otter, the latter having practically disappeared from the River Verde. The Pecho Venus Centre for the Recuperation of Protected Species in Tolox cares for animals which have been harmed.