Shopping in Estepona
In recent years the Costa del Sol has become one of the most cosmopolitan and commercialised places in Europe, with continual tourist growth. Besides the Spanish cultural aspect, much larger and international brand names have been established here.
Estepona offers a large amount of locally produced Spanish goods. Consisting of a large Marina it also has a wide range of nautical shops for boats as well as other accessories related to the sea. Every Sunday, in the port there is a market where you can find many bargains and curious items which will make excellent gifts for friends and family. There is also a commercial centre on the Marbella side of the town which supports a large Carrefour supermarket as well as some interesting satellite shops. Parking in the town centre can be difficult, although the commercial centre has plenty of free space.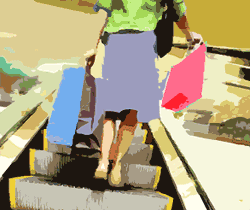 Tourist Market
(Sunday Morning) in the Marina - Gifts, leather work, watches, costume jewellery, arts and crafts, presents, novelties, music CD's and tapes.
Town Market
(Wednesday Morning) "El Rastro" held in the open ground on Avenida Juan Carlos. Good for fresh fruit and vegetables, clothes and house wares.
Covered Market
(Mercado de Abastos). Daily am only. Held near the castle and the Plaza del Reloj. Good for fresh fish, meat, fruit and vegetables.
The industrial estate is located to the west to the town. To reach here take the signposted junction from the bypass. This is where you can find auto repairs, wood yards, furniture makers, printers, marble suppliers and builders merchants. To reach here from the centre of town, take Avenida Juan Carlos and turn left at the top by the BP petrol station.
Post Office
The main office is in the promenade near the centre of the old town. The collection of parcels and "Lista de Correos" you will find at the main office too.