Guadix's Guide
The cathedral town of Gaudix is well off the beaten path, in the eastern confines of the Province of Granada. A large, bustling country town with a personality all of its own, its history dates back to Phoenician and Roman times. It also played a major role in the Reconquest.
But the most interesting feature of the Guadix area is that almost half of the inhabitants of this large town live underground, in the southern part of the town. The jagged ochre terrain and the dazzling whitewashed chimneys and doors of the caves contrast dramatically with the snow-covered peaks of the Sierra Nevada, which loom above. The cave district is signposted on the main street of the town as the "Barrio Troglodyte"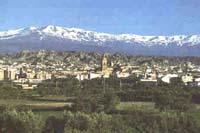 You can drive through the cave area, but you should also get out and take a stroll. The "troglodytes" are very friendly people and also very house-proud, or "cave-proud", as you wish... If you show an interest in their homes, you will be sure to be invited in to have a look. Ever since the Moorish times, the Andalucians have been fond of living underground because it is the best way of escaping the summer heat, and don't be surprised if you are invited in to have a look around. Most of today's cave-dwellings are well-appointed, like any other Spanish home, and some are even quite luxurious, with marble floors, fitted kitchens, faxes and internet connections. Purullena, a nearby village, has a disco inside a cave, and you can rent a cave to spend the night in many of the region's villages.
In the centre of Guadix, you should not miss the Cathedral, founded in 1594, and the Cave Museum - Plaza de la Ermita Nueva S/n.
The region is famous for its hand-crafted earthenware, which is sold on the roadside in the nearby village of Purullena.
The desert landscape around the village of Benalúa de Guadix is especially impressive, and well worth a drive through the region. If you wish to explore this fascinating region more thoroughly, you can also drive from Benalúa de Guadix to the Spa called "Baños de las Alicun de las Torres" returning on the first road on the right after leaving the spa, which will take you back to the A92/N342 motorway. The total drive takes between 90 minutes and 2 hours.
Maps of Granada
Click here to see a full map of the city.
More towns and cities
Know more towns and cities in the community of Barcelona.