Montefrío Guide
Lost in the rolling hills of olive groves in the north-western reaches of Granada Province, at 2,500 feet above sea level, the picturesque town of Montefrio, standing well away from the region's beaten paths, has conserved much of its traditional charm. It is famous all over Spain for the wedge-shaped cliff overlooking the village and crowned with the great Gothic church of La Villa, itself built on the dismantled foundations of the fortress built by the Moors of Granada, in their ultimately useless attempt to keep out the encroaching Christian armies of Isabel and Ferdinand.
Several miles away to the east is the vast wilderness of meadows, cliffs and caves known as "Las Peñas de los Gitanos", home to several hundred megalithic tombs or "dolmens". It was here that Montefrio was born, 5,000 years ago (the site of the original Copper Age village has been recently excavated), subsequently being the home of Romans, Visigoths and Arabs - the last of whom chose to move westward where the great upthrust of rock provided the ideal conditions for a military fortress.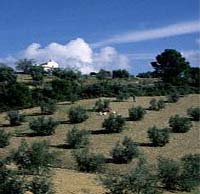 Maps of Granada
Click here to see a full map of the city.
More towns and cities
Know more towns and cities in the community of Barcelona.