The Cathedral and Surruondings
From the Calle de los Reyes Católicos, at the Plaza del Carmen, we take the Calle del Príncipe to the Plaza de Rib-Rambla, the flower market. Here we find the narrow streets which make up La Alcaicería and Zacatín, the old Moorish silk market and area of skilled craftsmen, today a colorful commercial area.
On the large space occupied by the main mosque, a group of Christian buildings of great artistic interest was erected after the Reconquest. The these include the Cathedral, the Church of El Sagrario and the Royal Chapel.
The Cathedral (17) was built between 1518 and 1704, and although started in the Gothic style, most of the structure is Renaissance. It has a basilica ground plan, and the 17th century façade, composed of three large arches, was the work of Alonso Cano and evokes the great Roman triumphal arches. In the interior the lovely Main Chapel can be seen.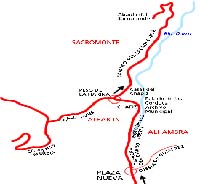 Click to Enlarge
The Royal Chapel (18) rises also on the Calle de los Oficios and houses the Tombs of the Catholic Monarchs, the Tombs of Juana de Castilla (called Mad Queen Joanna) and Felipe el Hermoso (Philip the Fair), as well as a magnificent altarpiece built in 1520. In the Sacristy we can admire the paintings of the Flemish, Italian and Spanish Schools of the 15th century donated by Queen Isabella.
The Church of El Sagrario (19) we see today is the 1704 reconstruction, forming part of the group of buildings attached to the Cathedral and Royal Chapel. Its ground plan is in the form of a Greek cross, and it contains important paintings from the 15th and 16th centuries, as well as a lovely Renaissance baptismal font carved from white marble. Opposite the royal Chapel, we find the old Palace of La Madraza (20), from the Arab word Medersa, a Koran school founded by Yusuf I in 1349 and converted by the Catholic monarchs into the Casa de los Cabildos. It underwent various renovations until its demolition and was rebuilt in the 18th century. Today it houses offices of the university of Granada.