From the Jerónimos to the Cartuja
Our itinerary begins at the Plaza de las Pasiegas at the main façade of the Cathedral.
From the Plaza de las Pasiegas and the Calle Cárcel Baja, we arrive at the Calle de San Jerónimo, which leads to the Plaza de la Universidad. Here we find what was formely the University of Letters (21), founded by Carlos V in 1526; today the Law School. Next to it, we see the Church of Saints Justo and Pastor (22), a former collegiate church, started in 1575 by the Jesuits. The Baroque bell tower contrasts with the elegant dome that crowns the church.
Opposite, we find the 16th century University Residence Hall,Real Colegio Mayor de San Bartolomé y Santiago. Walking down the Calle de San Jerónimo, to the right we encounter the Caicedo Palace (23). At the end of the street, at the corner of the Calle del Gran Capitán, is the 17th century Church of Perpetuo Socorro.
The Church of Los Jerónimos (24), on the Calle San Juan de Dios, is a Renaissance treasure built at the beginning of the 16th century. Its Gothic cloister and the Gothic-Renaissance cloister of the monastery, the magnificent dome and the altarpiece of the main altar are a few of the interesting features.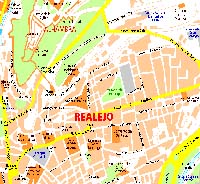 Click to Enlarge
On the same street, we find the Church and Hospital of San Juan de Dios (25). The church is considered one of the most important Baroque structures in the city. Its Churrigueresque-style altarpiece of carved wood is especially noteworthly. The mortal remains of San Juan de Dios (Saint John of God) have been laid to rest here.
In the Plaza de El Triunfo, we have the Royal Hospital (26) founded by the Catholic monarchs in 1503, today the seat of the Restorate of the Central University Library.
Nearby is the lovely arch of the Elvira Gate (27), built in the 11th century.
The former Convent of the Merced Calzada, founded by the Catholic monarchs, is located on the Calle Acera de San Ildefonso and has a lovely 17th century courtyard. On the same street, we also encounter the Church of San Ildefonso (28) with a doorway designed by Diego de Siloé and carved by Juan de Alcántara.
Taking calle Acera de San Ildefonso, which later changes its name to Calle Real de la Cartuja, we come to the Carthusian Monastery (29). Its main building was erected during the 17th century in the purest of Baroque styles.
Maps of Granada
Click here to see a full map of the city.
More itineraries
Know more itineraries in the community of Granada.