Guanajuato Photos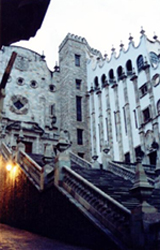 University Guanajuato:
The present university building was built at the beginning of the nineteen-fifties on the initiative of the Governor of Guanajuato, José Aguilar y Maya. The idea was for a building that would be colossal and majestic and that would, at the same time, be in harmony with the Church of the Society of Jesus. In it are various old parts such as the "Colegio Primitivo", the Chapel of the Mexican Indians, the Alfredo Dugés Museum and the facade of the old parish church of Marfil, saved from the flood and transported, in 1947, to the interior of the School of Industrial Relations, where at present it displays its baroque decoration.
Juárez Theater:
Majestic cultural premises in the centre of the city. Construction was begun in 1872, and the theatre was inaugurated on 27 October, 1903, by the President of the Republic at the time, General Porfirio Díaz. Its facade, in the neoclassical style, is crowned with eight bronze sculptures of the Greek muses who symbolize the fine arts. The interior of the theatre, in the Morisco style, has five levels, and the curtain is painted with a panoramic view of Constantinople. Today it is the principal stage for the Festival Cervantino, and figures of international importance have appeared here in different cultural events. It was subject to important restoration work in 1959-1960 and in 1989-1990.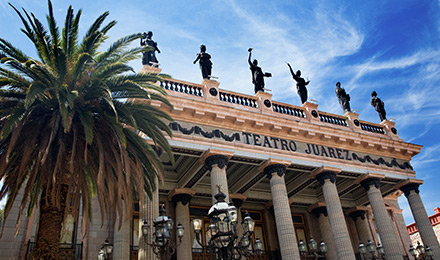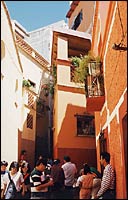 El Callejón del Beso :
This spot is highly valued by the city due to its special beauty and to its significance in the tragic legend of the young lovers, Don Luis and Doña Carmen, who, prevented from consummating their love, met in secret on the balconies of their two houses where, only 68 cm from one another, it was possible for them to love one another, until the day Doña Carmen's father surprised them there and killed his own daughter. Since then it is said that the couple that visits this spot and kisses on the third step will have happiness for seven years. This famous alley is to be found in a neighbourhood whose construction dates from the 18th century.
Maps of Guanajuato
Click here to see a full map of the city.
More towns and cities
Know more towns and cities in the community of Guanajuato.