Food & Drinks
Guanajuato is situated in the centre of the Republic, and in addition to its cultural wealth, it is famous for its food. Throughout the state the visitor can find an exquisite variety of dishes. Beginning, for instance, with the food of Apaseo el Grande, where legumes and cereals are grown and its snacks, or Antojitos, are famous.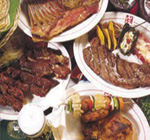 In Celaya, the Golden Gate of El Bajío, famous for its sweets, where the cajeta is the favourite and can be found packed in wooden boxes or glass jars; or the wafers, square custards, almond cheeses and pecan sweets. To the north, in the city of Comonfort, the "Nieve Mantecada" is famous, along with dishes like Nopalitos al Pastor, Menudo, Adobo Seco, Gorditas de tierras negras, Fritangas de Pobre, Sopa de Rabo, Tacos de Nata, Dulce de Guayaba y Alegrías with coffee, Atole and Colonche, a drink that is traditional in this region and that is made from prickly pears fermented in covered pots.
In Salamanca they eat snacks made of pork and tripe, lamb and goat barbecue; in Irapuato the strawberries are famous, in pastries or with cream and sugar. León, is famous for its tripe, stuffed chicken and guacamayas. Dolores Hidalgo is famous for its sorbets, with incredible flavours like pulque, shrimp, chili, corn and tequila, as well as the traditional seasonal fruits. In San Luis de la Paz they grow the best chili peppers in the country.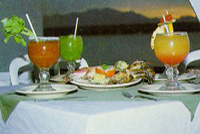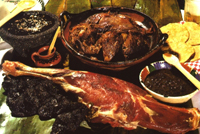 In a number of parts of the state of Guanajuato, they also prepare enchiladas, marinades, toasts, lentils done in a variety of ways, tamales and other snacks.
Guanajuato is thus one of the states where one can make a delicious gastronomic tour.