San Miguel de Allende
The foundation of the city, about the year 1542, was the result of the need to protect and safeguard travellers between Zacatecas and the capital of what was then the kingdom of New Spain, who chiefly transported minerals and were regularly attacked by the indigenous nomads of the Chichimeca nation. In the interior of this attractive colonial complex, are a number of genuinely noteworthy palaces of the period. One of the most striking is the Municipal Palace, formerly the town hall, built in 1736.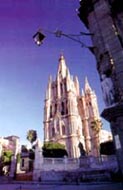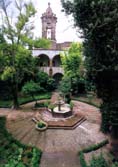 The house where Ignacio Allende was born, example of the city's baroque architecture, particularly in its facade, and today the Regional Museum. La Casa del Mayorazgo de la Canal, with its lovely neoclassical facade. The old ancestral home of Don Manuel Tomás de la Canal, a construction of 1735. At present the building houses the Allende Institute and of special note in it is the expanse of the inner patios, the lovely chapel and extraordinary arches.
The chapel of Santa Cruz del Chorro, one of the oldest chapels; the church of the Third Order, which dates from the beginning of the 17th century. The lovely complex of the church and oratory of San Felipe Neri, from the early 18th century; the church has an exuberant baroque facade done in pink stonework, with a strong indigenous influence in the decoration. The interior has a rich and varied decoration, including furniture, sculptures, and remarkable paintings, in addition to the splendid chapel of Santa Casa de Loreto.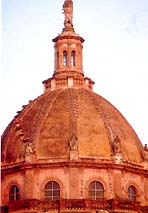 Near the oratory is the church of Nuestra Señora de la Salud, built in the 18th century with its facade crowned with a great shell. Also among the most striking buildings in the city is the 18th century church of San Francisco, with its beautiful churrigueresque facade. The famous parish church is almost a symbol of San Miguel de Allende. Although its neo-Gothic construction is more recent, it was built on the foundations of the old 17th church, respecting the interior and ground plan in their entirety.
Close to the city is the sanctuary of Atotonilco, a 13th century building with a simple structure and the look of a fortress, in the interior of which are conserved valuable paintings from the same century.
Maps of Guanajuato
Click here to see a full map of the city.
More itineraries
Know more itineraries in the community of Guanajuato.