Trip Through Guanajuato
Here we can visit the Manuel Doblado Theatre, the "Templo Expiatorio" with its carved bronze door, the central plaza with its perfectly kept laurel trees and its arch erected to commemorate Mexico's Independence. After León, we make a side trip to the capital of the state, to visit San Francisco del Rincón, which in addition to its spas with thermal waters has an art gallery with more than 100 works by Hermenegildo Bustos. From León the motorway takes us, 32 kilometres on, to Silao, the junction with highway 110, to Guanajuato.
Guanajuato is one of the nation's most important cities in terms of its historical and architectural heritage. Its most important buildings are the churches of La Valenciana and of the Jesuits, the Juárez Theatre, the Granaditas Corn Exchange, the Basílica Colegiata and the churches of San Diego and of Cata. Other buildings that have become well known in more recent times are the University of Guanajuato, the monument to Pipila and the Garden of the Union. The International "Festival Cervantino" is the most important cultural event of the year. From Guanajuato we return to Silao in order to go on to Irapuato. (Dolores Hidalgo and San Miguel de Allende will be included in another route).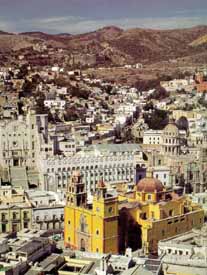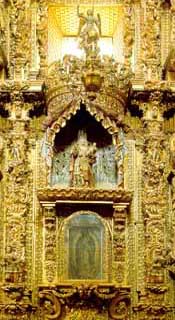 Before reaching Irapuato we can continue direct on motorway 45 until arriving at Querétaro, but we prefer to enter Irapuato to see the Cabrera paintings in the church of San Francisco and then on to Pénjamo, to see the baroque facade of the church of Los Remedios.
Returning to Irapuato, there is a 20 kilometre stretch of motorway that takes us directly to Salamanca. Near here is La Pintada, a spot with rock paintings and carvings. Afterwards we continue on highway 43 to Valle de Santiago where there are also rock carvings and an area of lagoons.
From Valle de Santiago we travel down highway 17 to Cortazar and then to Celaya. Here we visit the convent of San Francisco, from the 17th century, one of the largest in the country.
From Celaya we can go on to visit Salvatierra, 37 km to the south by motorway, and afterwards Yuriria, 38 km to the west. Yuriria Lake, which extends out in front of the town, is surrounded by inactive volcanoes.
Returning to Celaya and before travelling on to Querétaro, it is worthwhile to stop in Apaseo el Alto where there is a church in the neoclassical style and a crafts centre with objects from the Otomí, Mazahua and other Indian cultures.
Maps of Guanajuato
Click here to see a full map of the city.
More itineraries
Know more itineraries in the community of Guanajuato.