Guanajuato Legends: El Pipila
Juan José de los Reyes Martínez, a simple miner, native of San Miguel de Allende but working at the time in the nearby mine at Mellado, is better known to history by his nickname "Pipila". Once the conspiracy was discovered, Hidalgo gathered together a group of townspeople, among them some prisoners from the gaol, and with those they recruited along the way, arrived in Guanajuato. Their main objective was to take the Granaditas Corn Exchange, where Riaño, the governor, had taken position, with the soldiers of the garrison. The treasure in his care (some three million pesos), silver ingots, money in cash and even the mercury used by the Royal Tax Office, as well as military equipment and food supplies, were necessary to withstand the siege.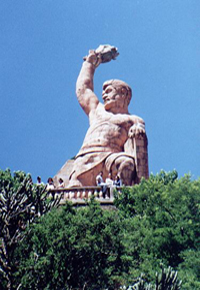 In the bloody, indescribable battle, this man of the people, a humble Mellado miner, put a flagstone on his back and carrying a torch, crawled to the door of the Corn Exchange, which he set on fire after having smeared it with pitch. When the wood gave, the crowd broke in, undaunted by the many who fell, victims of the Spaniards' concentrated rifle fire. Some fell and others charged over them, into a hand-to-hand struggle on the inner patio, where the strength of the two bands was equalised since the firearms were no longer usable... until blood flowed in a torrent out the door and down Mendizábal Street...
Were it not for the courage of "El Pipila", Hidalgo would not have taken Granaditas and the result of the insurrection would have been quite different. In other words, Mexico's independence would have been won, but who knows how much later, under what conditions and at what cost?
The success of this historical clash between rebels and royalists was chiefly due to the courage of "El Pipila". This momentous event marks the beginning of an epic in which Guanajuato covered itself with glory and which constitutes one of the most magnificent episodes in the history of Mexico.
See more legends of Guanajuato
Maps of Guanajuato
Click here to see a full map of the city.
More towns and cities
Know more towns and cities in the community of Guanajuato.